When you're putting together your B2B sales plan, there are several key things you need to know. By understanding them, you can develop a more efficient sales strategy. Through this, your business will connect more effectively with your customers, increasing your customer retention and allowing for revenue growth.
Ready to transform your B2B sales operation and make it more successful than ever? These five things will help set you on the right path.
1. A Defined Sales Funnel
Your sales funnel is the method by which interested parties make the move from prospects to customers. Think about how your customers decide to make a purchase from your business. Do they do research? What level of research goes into the purchase? What information do your customers rely on when they're making purchasing decisions?
The more you know about your customers, the better you can construct your sales funnel. With this knowledge, you can curate ideal customer experiences designed with conversion rates in mind.
Regardless of how fleshed out your sales funnel is, its primary directive is the same as every other: to turn leads into clients. A sales funnel should address every stage of interaction between you and all B2B companies that could be customers.
Knowing more about your sales funnel and its potential deficiencies will help you address them specifically. No sales funnel is the same, but it should have at least these components.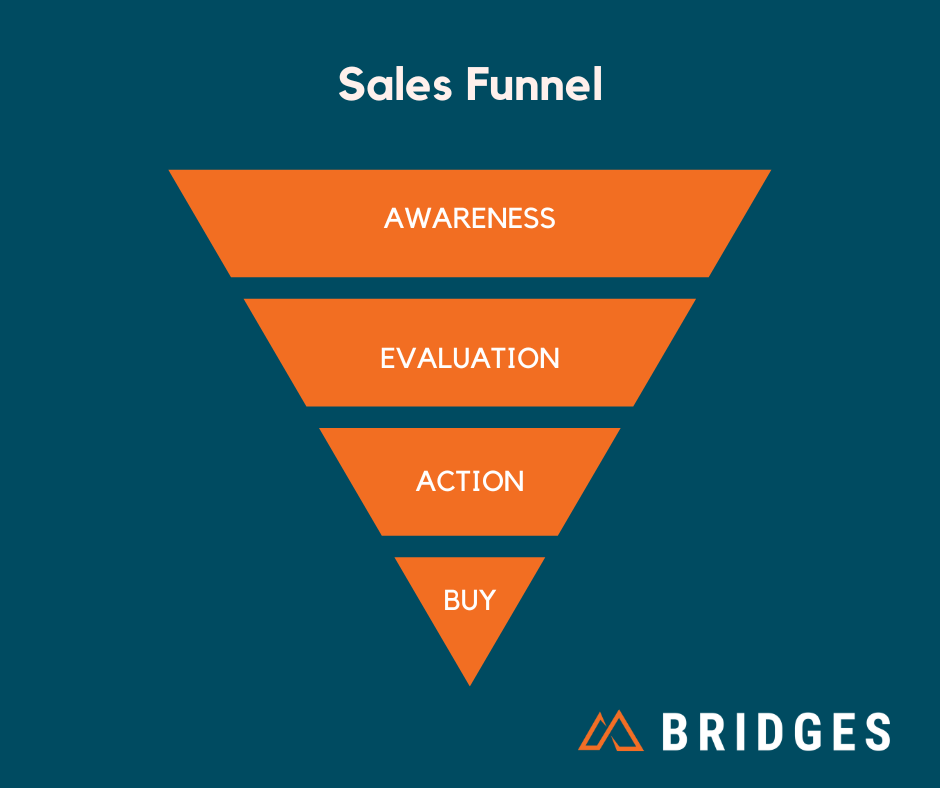 Awareness


The widest part of the tunnel, this is how a customer becomes aware of your business and how it may help with their specific problem. Lead generation and search engine optimization are helpful sales tools to devote to this part of the customer journey. Be sure your awareness stage is not too scattershot; you shouldn't have too many resources devoted to attracting unlikely leads.

Evaluation

The middle part of the funnel, this is when a customer seriously considers your business relative to your competition. Blog content, data, and testimonials should all be clear and accessible. Customer personas are a helpful tool in this stage, allowing you to curate the content potential customer's access, explaining how you can help them better than anyone else.

Action

This can be anything from the step before purchase all the way to the end to the "buy." Whether you offer free trials, demos, or consultations, this is when your team gets involved directly with the customer, applying your business tools and services directly to their needs.


The key to your B2b sales team's success is defining the sales funnel, which will ensure more efficient and curated pipeline management for your entire business. The better defined it is, the easier it is to teach and analyze it for process improvements.
2. Meeting Guides
Meetings are no longer sales pitches, they are more like a date. They're an act of getting to know each other and proving that you're worth the time. Whether it's quarterly business reviews or potential client meetings, a meeting guide can offer consistency between different members of your sales team and ensure that you use your time wisely
Did you know that the average high-ticket B2B sales transaction requires at least three meetings to even move forward and the average sale to a b2b company can take up to 6 months? To be sure those meetings are successful and that time is spent effectively, you should know to prioritize these two things:
The Client's Pain Points
Knowing your audience is crucial to getting their attention and convincing them you're the solution to all their problems. When you understand who they are and what they hope to accomplish, you can design a sales meeting that demonstrates all the ways your team, its tech stack, and your business as a whole can help.
A Guide to Getting the Next Meeting
Accomplishment comes in many forms, even if that's just getting another meeting. Be sure your sales operation team has a goal in mind to push for it and gauge the client's level of interest.
Once you know what your customers are looking for and what should happen in each meeting, create a guide that will help instruct your sales team. Having a thorough sales guide also increases consistency for several meetings with different participants.
A well-researched meeting guide can make all the difference and should contain:
Research: Background information, customer personas, key stakeholders and the representative's history are important things to have at your disposal in a meeting. By simply putting this information in the meeting guide, your sales team will increase their awareness of the customer and their needs.
FAQs: Anticipating your customer's questions is the key to preparedness. Your team can prepare for this by understanding their pain points, history, and customer personas. Your guide should also suggest curated answers to these questions, offering strategic insight into their needs while simultaneously presenting your business's role as an inevitability.
Questions for the Customer: Having educated, thoughtful questions for your customer will leave an impression that will go a long way toward establishing a relationship. Informed questions demonstrate your team's research, strategic planning, and investment in the customer. The answers to these questions are also crucial, especially in follow-up communications and next steps.


Agenda:

An agenda will keep your meeting on track and help your team maximize their time. There's no need to have it planned to the minute, but having an understanding of the key points your team should address and how to naturally move from one point to the next will ensure that they've covered all their bases.
Every meeting is important, especially to your customer. Creating a meeting guide for potential and existing customers with specific goals will improve the sales enablement process. A meeting guide allows for more efficient use of all parties' time and will go a long way toward improving your team's selling process.
3. Sales Routing or Flow Chart
Simply put, a sales flowchart helps your sales team get from point A to point B without wasting time and resources. It will eliminate redundancies and increase efficiency.
This simple flowchart can monitor your incoming leads from the moment they contact your business. How are they handled from that first contact? Where are they routed? Who is it that deals with specific customers?
Start by analyzing what already works with your sales team by using their own experiences and marketing technology to better understand their interactions with potential customers:
Are customers more likely to respond to follow-up communications within a certain window? If so, add that to the administrative tasks your sales team performs after a meeting.
Do your sales reps get the same objections and questions a lot? Make these concerns and answers part of the flowchart to maintain consistency in sales and business development!
What stages of the sales process do they notice the most bottlenecks? Designing a flowchart with and for your sales team will help identify overlooked obstacles and allow you to create operational tasks to minimize them or eliminate them entirely.
When they need certain information, what team member do they contact? Or if a customer could be better helped, who do they direct their queries to? This will simplify moving interested customers further down the sales funnel without wasting time or involving irrelevant sales members.
Having a sales flowchart sets your team up for success by providing a consistent sales process during training. Through this revenue operations system, your whole business is firing on all cylinders to alleviate unnecessary stress on different departments.
4. Defined Lifecycle Stages
Today's customers are looking for a customized marketing experience—no matter where they are in the sales funnel. Just like you wouldn't marry someone you'd just met, you wouldn't hard close a brand new customer.
An effective sales funnel attracts a lot of attention, but not all of those leads are attainable or relevant. By defining potential customers by their lifecycle, your team can allocate resources and attention appropriately. You can use customer journey mapping tools to separate the unlikely leads from prospective customers.
Define your lifecycle stages using common language that will make it easy to identify where each customer is in the sales funnel. Assigning these labels will improve training, team coordination, and the efficacy of customer interactions.
5. Reasonable Goals
Sales goals are the motivating force behind every sales operation. It doesn't take a genius to realize that you need them! It's also important to remember that sales goals should be reasonable. Business operations should not be designed with lofty goals in mind. A sales goal that is unreasonably high can be even more counterproductive than one that is set too low.
These can be set by establishing key performance indicators that are accessible and easily measurable, like average deal size and revenue growth.
Take the time to study your salespeople and determine how much they can accomplish. Then, set reasonable goals that encompass both their current targets and their future efforts. Set goals that are attainable but require effort to achieve and you'll see your numbers climb.
Set Your Sales Team Up for Success
Your sales team is your key to sustainable growth and customer retention. To say nothing of the crucial role they play in your business's revenue engine.
Guarantee their success with these B2B sales operation practices designed for efficiency and optimizing their efforts. With them, your business's sales training and coordination will improve dramatically.
These sales practices demonstrate:
A well-established sales funnel can help identify and analyze the performance of key metrics.
A simple meeting guide will help you optimize your time with a customer
A flowchart can improve training and sales-to-customer interaction
Defined customer lifecycles will ensure your team isn't wasting time on fruitless leads.
When you have attainable goals, your team is incentivized by measurable success.
Moving your customers through the sales funnel can be a challenge. If you need help ensuring that you have the right processes in place for your customers, contact us!
We'll work with you to define and develop your sales team's goals and practices. Achieving sales success and streamlining sales practices are vital for your business's survival — let us help.

Jake Fisher
Jake Fisher, is President and Co-Founder of BridgeRev. He helps our clients with their revenue and growth goals by providing better strategies, better processes, and better technology. He also makes videos and written content to help entrepreneurs, business owners, and managers achieve their own revenue goals. And, he talks to business and industry leaders at conferences and association events.