Inbound Marketing, Sales, Hubspot, Marketing Automation, Integrations
The HubSpot Growth Stack (marketing, sales & CRM) is designed to help marketers and salespeople to generate more leads and sell more by:
Removing friction in the marketing and sales processes.
Providing relevant marketing and sales content in the right context.
Automating many marketing and sales processes, therefore allowing more productivity per person.
You can augment the capabilities of your HubSpot platform by integrating other SaaS products that help you market better and sell more efficiently.
Here is a list of some of our favorite HubSpot integrations:
LeadsBridge
LeadsBridges does two major things in its integration with HubSpot:
It pushes Facebook Lead Ads contacts to HubSpot
Facebook Lead Ads encourage users to sign up for business information from the advertiser. There is a form right on the ad within Facebook. If you are an inbound marketer, it should be obvious to see the value of having a form directly on Facebook.
With Facebook Lead Ads and the LeadsBridge/HubSpot integration, your prospects can request an inbound offer directly from Facebook. The prospect's information from the form is pushed back to HubSpot and workflows can be triggered by the new contact. Effectively, the Facebook Lead Ad form takes the place of the form on the landing page, removing an element of marketing friction.
It syncs HubSpot lists to Facebook Ads Custom Audiences
This functionality allows you to nurture leads through Facebook Ads. Sometimes this is referred to as CRM re-targeting.
Facebook Ads custom audiences allow you to upload a list of your existing customers and contacts. That contact information is matched to Facebook users. Those users are targeted by the campaign.
LeadsBridge automatically pushes contacts from HubSpot lists to Facebook Ads Custom Audiences. Now you are doubling your lead nurturing efforts by doing it via social media in addition to email.
EventBrite
If events are part of your marketing, the HubSpot/EventBrite can be a valuable tool.
We use the EventBrite integration with the Oklahoma City HubSpot User Group. When users RSVP for an event their contact info is pushed into HubSpot and can be used as a trigger for workflows.
Wistia
Wistia is a professional video hosting solution for marketers. HubSpot/Wistia integration features include:
Video gating for lead generation. Lead information and conversion data is pushed from Wistia into HubSpot.
Contact segmentation based on the videos viewed.
View heatmap of video views directly in the HubSpot contact record.
Track clicks from in-video calls-to-action and annotations directly in HubSpot.
Use videos in marketing emails.
In his keynote at Inbound 2016 (and in this blog post), HubSpot co-founder Brian Halligan argues:
The marketing teams winning the video game today are mastering live, off-the-cuff video.
There are two main ways that the Google Calendar/HubSpot integration is helpful for sales:
If you have ever suffered through the frustration of trying to set a time for a meeting with a fresh sales prospect, then the HubSpot Meetings Tool will make you happy. It allows prospects to book themselves directly on the user's calendar from an easy to use web page.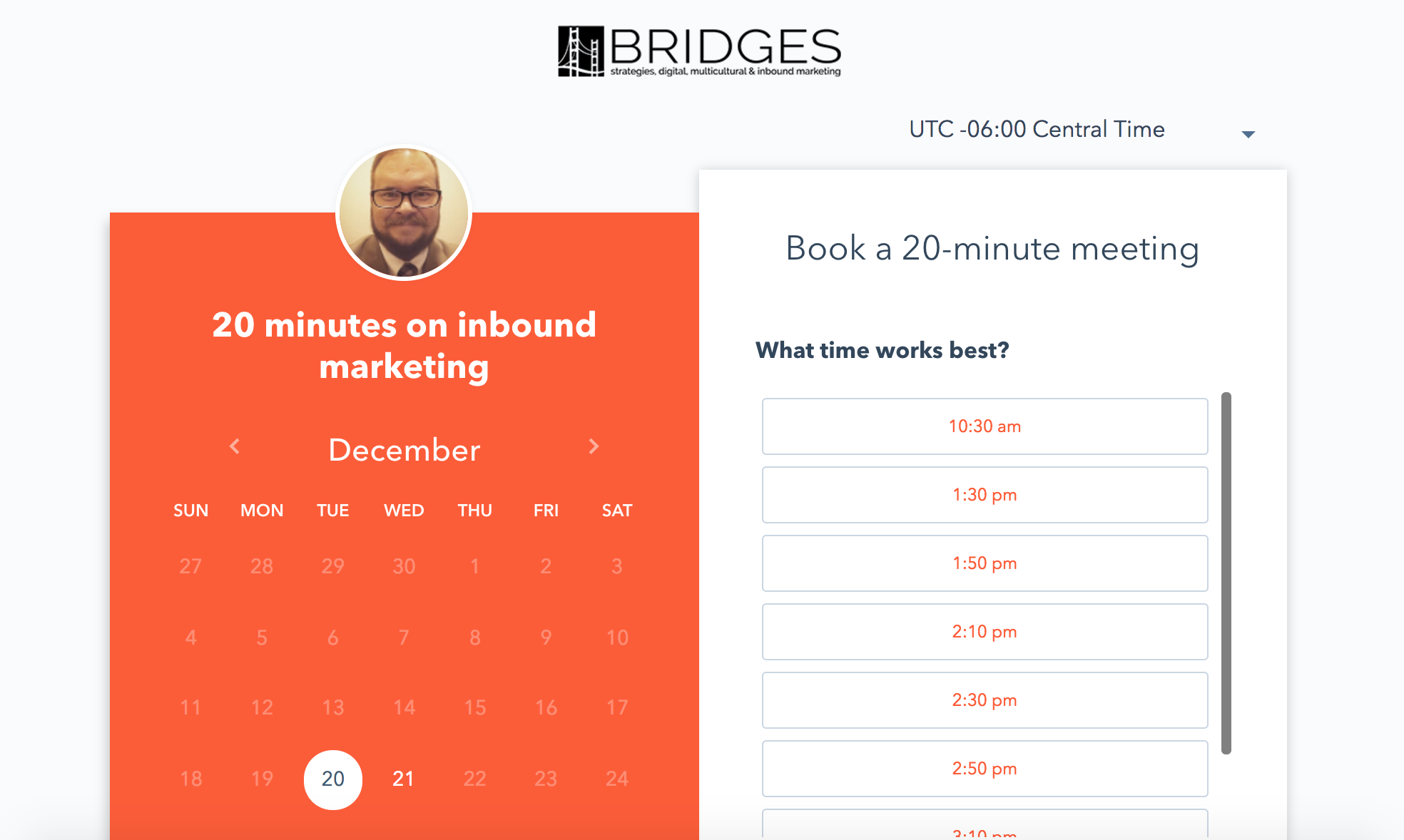 The HubSpot/Google Calendar integration allows the Meetings Tool to read when you are available to take a meeting with a new client, and it puts their meeting request directly on your calendar, eliminating another frustrating source of sales friction.
It schedules meetings from within the HubSpot CRM
Just because the HubSpot CRM is free doesn't mean that it isn't powerful. The CRM contact record view is where I spend a lot of my time. From that view I can:
View contact history from marketing and sales
View contact details
Send an email
Make a phone call
Log an activity
Save a note
Create a task
Schedule a meeting
The Google Calendar integration allows the HubSpot CRM to automatically schedule meetings from the contact record view.
So the sales is done and it is time to cross the t's and dot the i's with a formal agreement. This where the HubSpot/PandaDoc integration really shines.
When it is time to send the agreement, HubSpot pushes the relevant contact information for the agreement into PandaDoc. The information from HubSpot is merged into a PandaDoc template and sent to the client for his or her signature.
Once the agreement is signed, a notice is pushed back to HubSpot and it appears on the contact record timeline. This notice of signature can be used to trigger workflows that notify you and/or send an automated welcome email to the new client.
Zapier is the mother of all integrations. It is to APIs what Microsoft Windows was once to DOS; it is an easy-to-use graphical user interface that makes easy what once was just accessible to those that knew the code.
When you want to integrate HubSpot with another application and there isn't a direct integration, Zapier comes to the rescue. Here are some examples of what Zapier can do:
Create a new customer in Quickbooks Online when you close a new customer in HubSpot.
Create a new row in a Google Sheet sales spreadsheet with deal information when a new deal is created in HubSpot CRM.
Add a new contact to Google Contacts when a new HubSpot contact is created.
Make a new task in project management tool, Asana when a new lead is created in HubSpot.
These integrations, while our favorites, are but a few that are available. Here is a more comprehensive list.
Technology is advancing rapidly, and the fields of marketing and sales are evolving beyond recognition. Make this work for you and get the best results out of your marketing efforts using cutting-edge software and platforms to reach out and sell. Don't get left behind by those who are not afraid of a little technology, and by all means give us a call if you're looking for advice or help!
"HubSpot Logo" by jameskm03 is licensed under CC BY-SA 2.0