Whether you're launching into your next marketing campaign or merely sending email, you probably use more software programs and applications than you even realize.
One problem with all those tools is that some software and applications don't always speak the same language, meaning they can't connect, communicate, and integrate.
As HubSpot users, we've identified what apps work well with our tech stack. Using HubSpot integrations can simplify marketing efforts by connecting software to the applications you use outside of this ecosystem. This means that many of the tools you use to support customer service, lead capturing, and placing ads, among other services, can often be used via Hubspot integrations.
The result? You save time and effort and can even see improvements in your marketing performance. While it seems there are always new tools and apps to use and learn as part of your marketing efforts, taking advantage of HubSpot Integrations shouldn't be overlooked.
First Things First: What is HubSpot?
HubSpot develops and markets all sorts of software products for use in managing inbound sales, customer service and customer relationship management (CRM), lead generation, content management, and much more. It's your one-stop-shop marketing database and management system for:
Increasing leads
Streamlining customer service
Building and optimizing your website
Email marketing
Content creation process
Tracking conversion rates
And much more!
Why We Use the HubSpot Marketing CRM
The HubSpot CRM Platform is designed to help marketers and salespeople to generate more leads and sell more by:
Removing friction in the marketing and sales processes
Providing relevant marketing and sales content in the right context
Automating many marketing and sales processes, therefore allowing more productivity per person
Enabling revenue operations, or RevOps, which describes the comprehensive processes of driving predictable revenue using every client-facing team
You can augment the capabilities of your HubSpot platform by integrating other SaaS products that help you market better and sell more efficiently.
Our Favorite Integrations
There are HubSpot integrations that we use with our own marketing teams to enhance marketing automation and cut down on repetitive tasks. While there are many popular integrations, here's a list of some of our favorite HubSpot integrations.
1. Databox: KPIs and Insight On-the-Go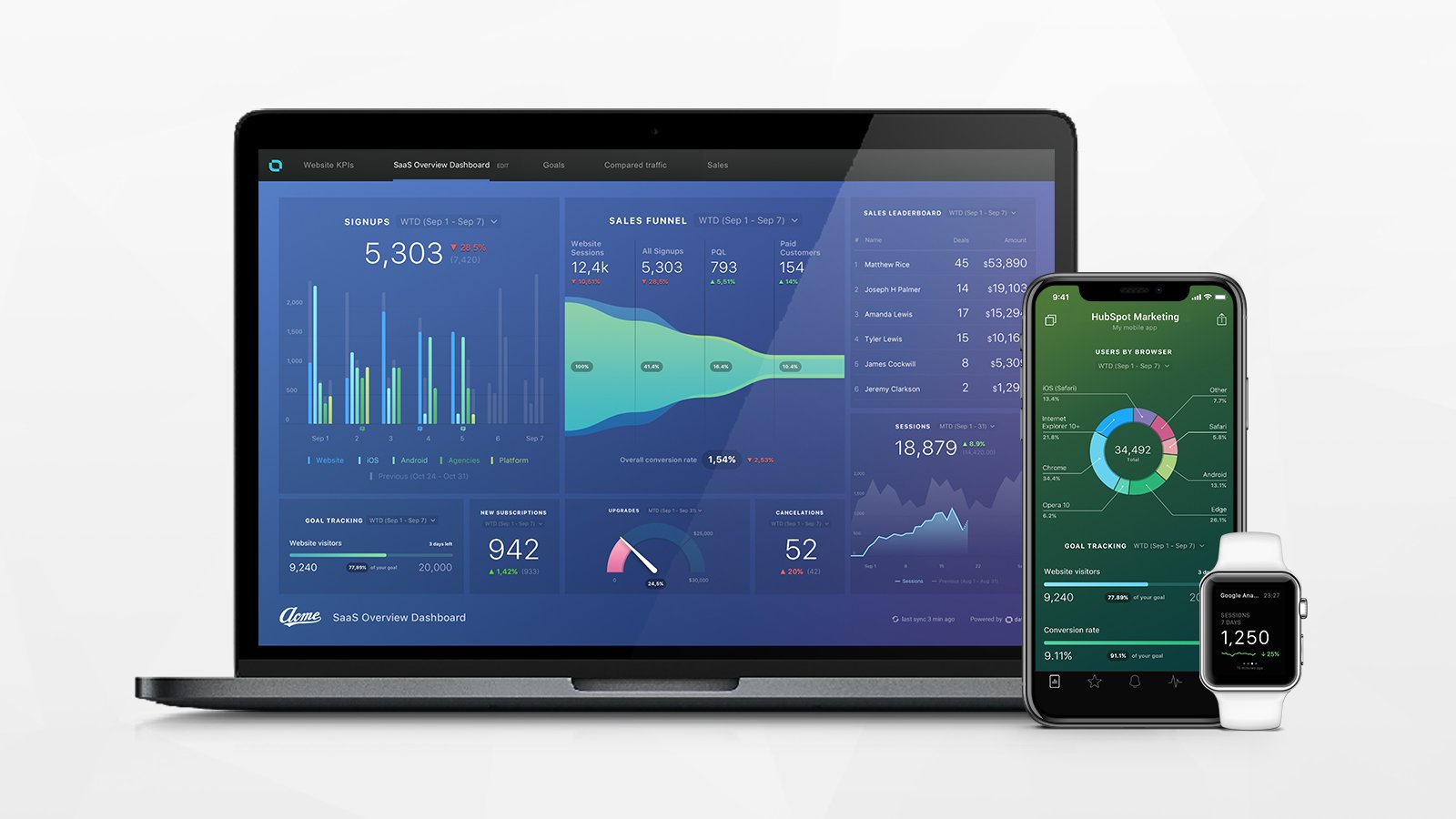 Working while on the go or working remotely can mean interrupted access to marketing databases and key performance indicators (KPIs). Databox lets you review and manage your KPIs from anywhere, combining analytics data into one system.
The Databox integration provides access to your analytics data in HubSpot from a wide variety of sources, including:
Google Analytics
SEMRush
Facebook
Mobile and desktop data and more
Databox produces and transfers insight from your HubSpot Marketing KPIs and delivers them to your mobile, desktop, TV display, Apple Watch, or Slack channels.
2. Hotjar: Understand Your Site Visitor Behavior
Marketing efforts often revolve around capturing prospective customers. Doing so means knowing who your customers and site visitors are. That's where Hotjar comes in. Hotjar is a popular integration that helps marketers gain a deeper understanding of their site's visitors and to leverage customer feedback.
Many customers aren't interested in completing forms. So, Hotjar provides insight into their needs and goals by using:
Heatmaps: visualizations using the color spectrum to demonstrate where aggregated and anonymized users hover on a web page.
Visitor recording: basically take the heat map concept to the next level by recording end-users screens while interacting with your site. This technique is not without controversy, so be aware before you implement it on your site.
Visitor polls and other tools: get additional behavior analytics through hearing directly from the people visiting your site.
Mid-sized businesses and startups are a prime target for Hotjar integration.
3. Versium: Targeting Prospects Right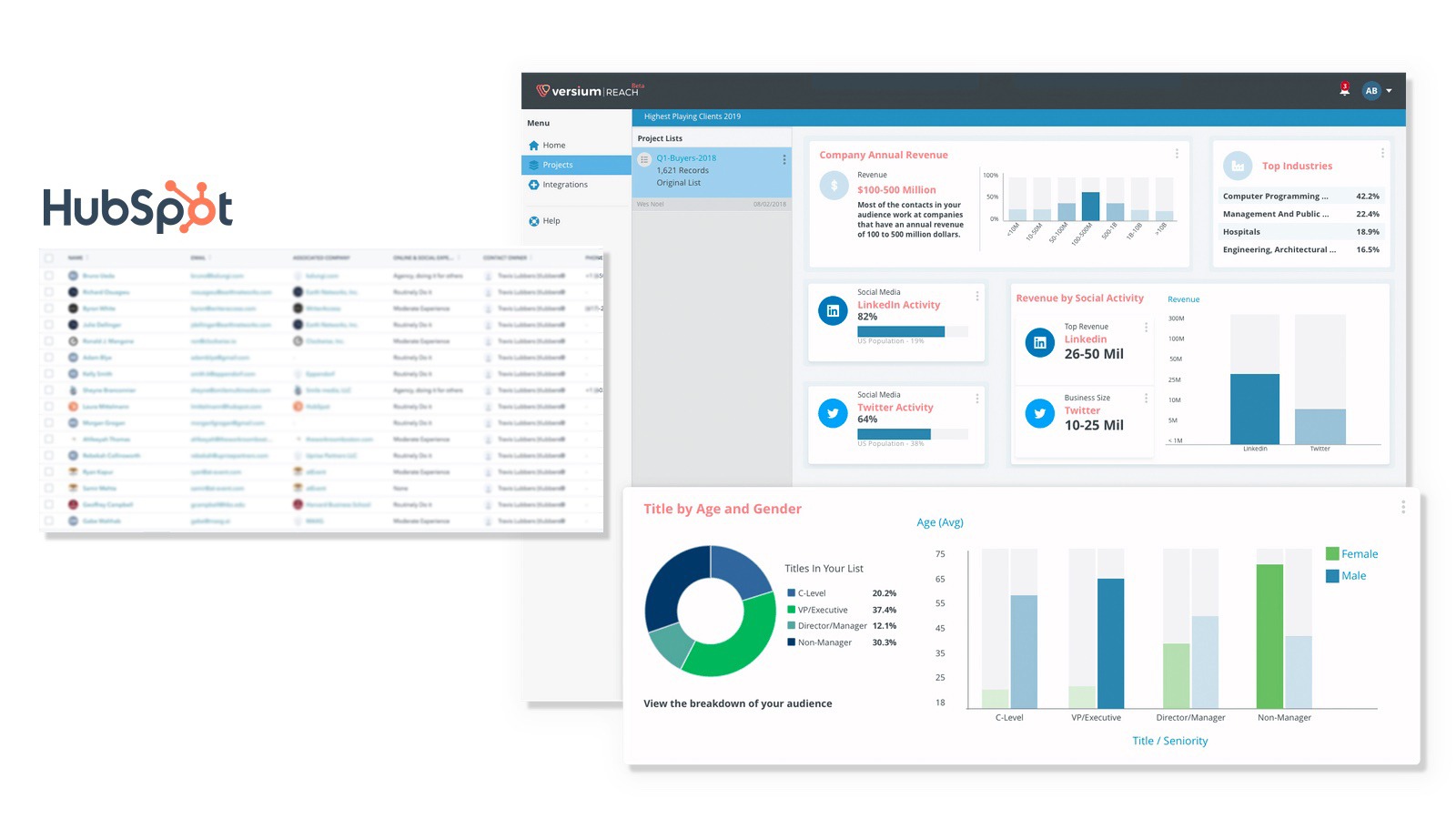 A HubSpot-certified integration, the Versium integration leverages proprietary identity resolution technology to create a rich identity graph for businesses to reach and understand their ideal customers.
Versium is a data technology company that uses a B2B2C identity graph and automated predictive analytics engine to help B2B marketers improve their effectiveness throughout the entire buyer journey. Benefits of this popular integration include:
Increasing reach by up to 520 percent for online B2B campaigns
Keeping up with audiences' evolving professional and personal profiles
A database with nearly 10 years of collected and refined data
4. Google Search Console: View Google Search Console Data Right in HubSpot
Figuring out how to enhance conversion rate optimization, workflow automation, and marketing performance more broadly often relates to how well your website functions and performs. Google Search Console is a tool for monitoring how Google views your site and how its organic presence can be optimized. Google Search Console lets you access and view your:
Referring domains
Mobile site performance
Rich search results
Highest-traffic queries and pages and other pertinent info
Using the Google Search Console HubSpot integration lets you bring Google search data into your SEO tool. You can easily see the number of views and clicks your site receives from specific search terms and the average position your site occupies on Google search results pages.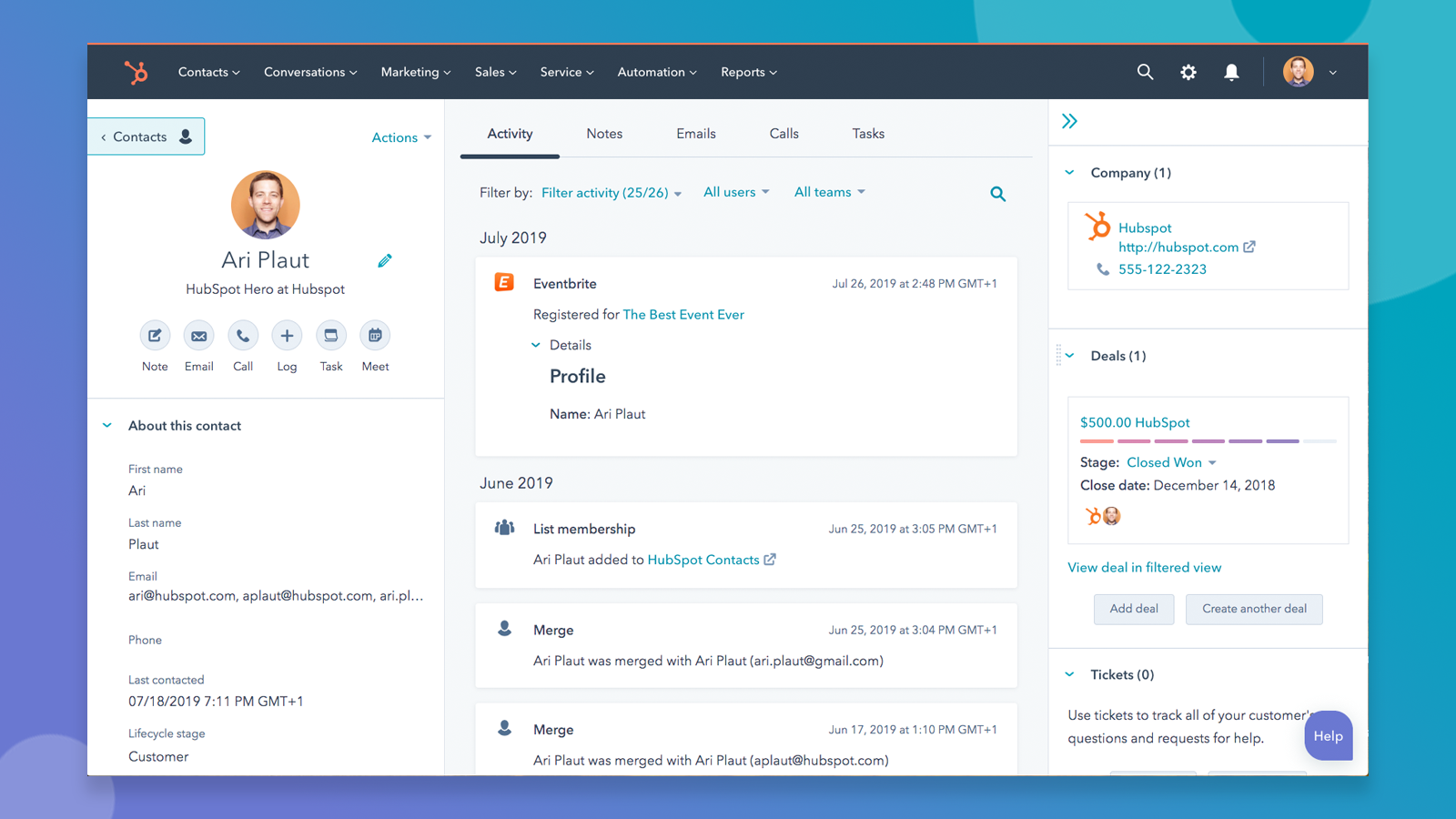 If events are part of your marketing campaigns, the HubSpot/EventBrite integration can be a valuable tool.
We use the EventBrite integration with the Oklahoma City HubSpot User Group. When users RSVP for an event, their contact info is pushed into HubSpot and can be used as a trigger for workflows.
6. Wistia: Optimize Video Performance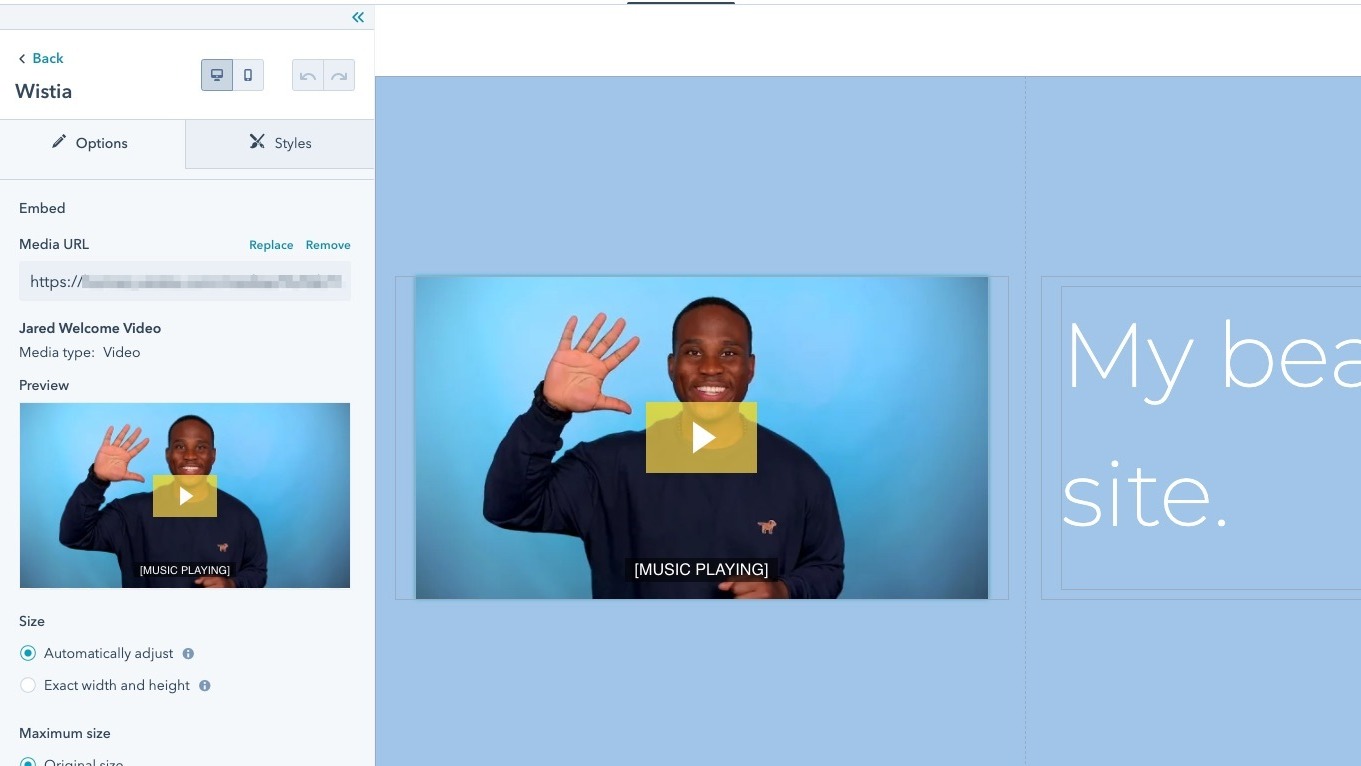 Wistia is a professional video hosting solution for marketers. HubSpot/Wistia integration features include:
Video gating for lead generation. Lead information and conversion data is pushed from Wistia into HubSpot
Contact segmentation based on the videos viewed
View heatmap of video views directly in the HubSpot contact record
Track clicks from in-video calls-to-action and annotations directly in HubSpot
Use videos in marketing emails
In his keynote at Inbound 2016 (and in this blog post), HubSpot co-founder Brian Halligan argues:
The marketing teams winning the video game today are mastering live, off-the-cuff video.
There are two main ways that the Google Calendar/HubSpot integration is helpful for sales:
If you have ever suffered through the frustration of trying to set a time for a meeting with a fresh sales prospect, then the HubSpot Meetings Tool will make you happy. It allows prospects to book themselves directly on the user's calendar from an easy-to-use web page.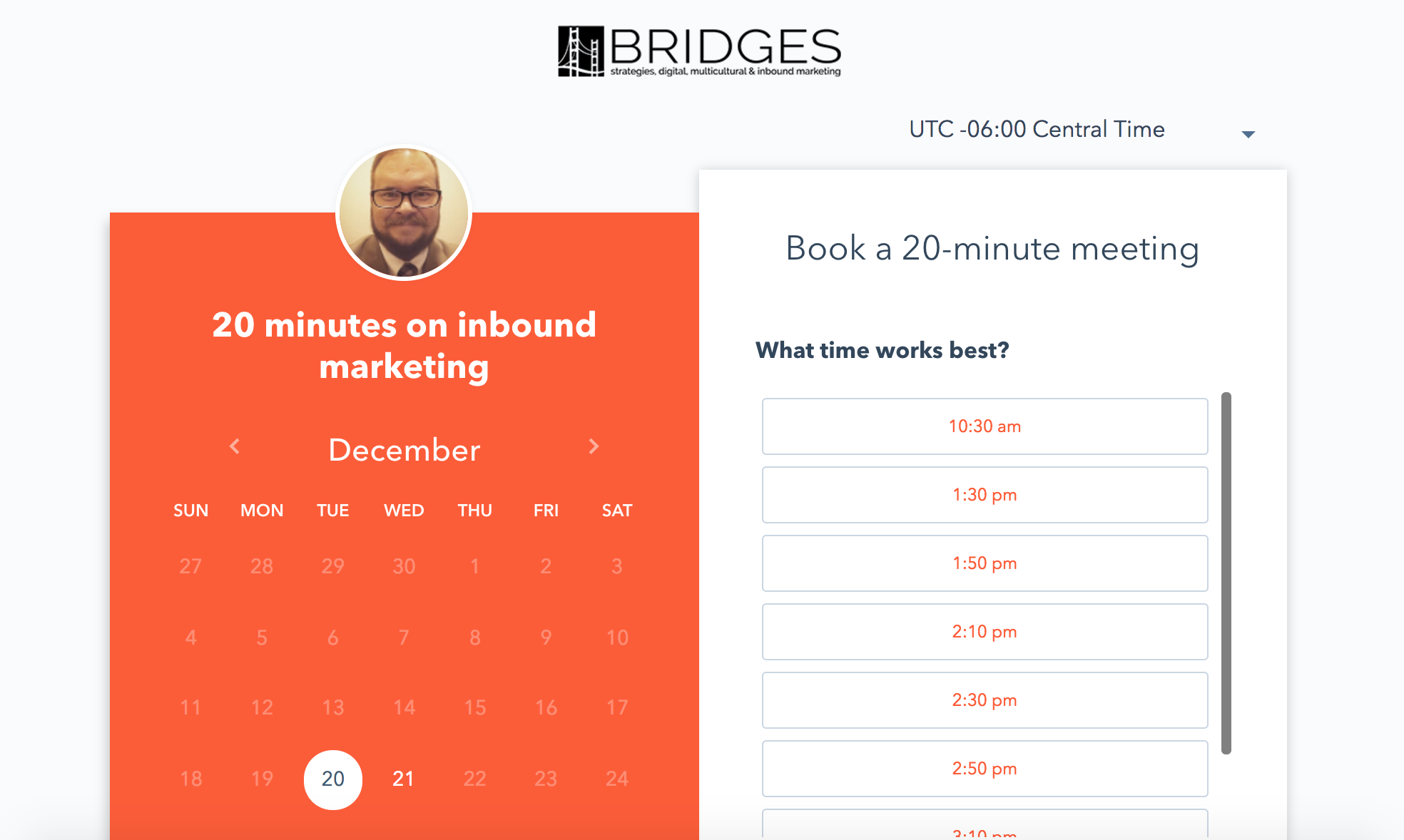 The HubSpot/Google Calendar integration allows the Meetings Tool to read when you are available to take a meeting with a new client, and it puts their meeting request directly on your calendar, eliminating another frustrating source of sales friction.
It schedules meetings from within the HubSpot CRM.
Just because the HubSpot CRM is free doesn't mean that it isn't powerful. The CRM contact record view is where a lot of sales folks spend their time.
From that view you can:
View contact history from marketing and sales
View contact details
Send an email
Make a phone call
Log an activity
Save a note
Create a task
Schedule a meeting
The Google Calendar integration allows the HubSpot CRM to automatically schedule meetings from the contact record view.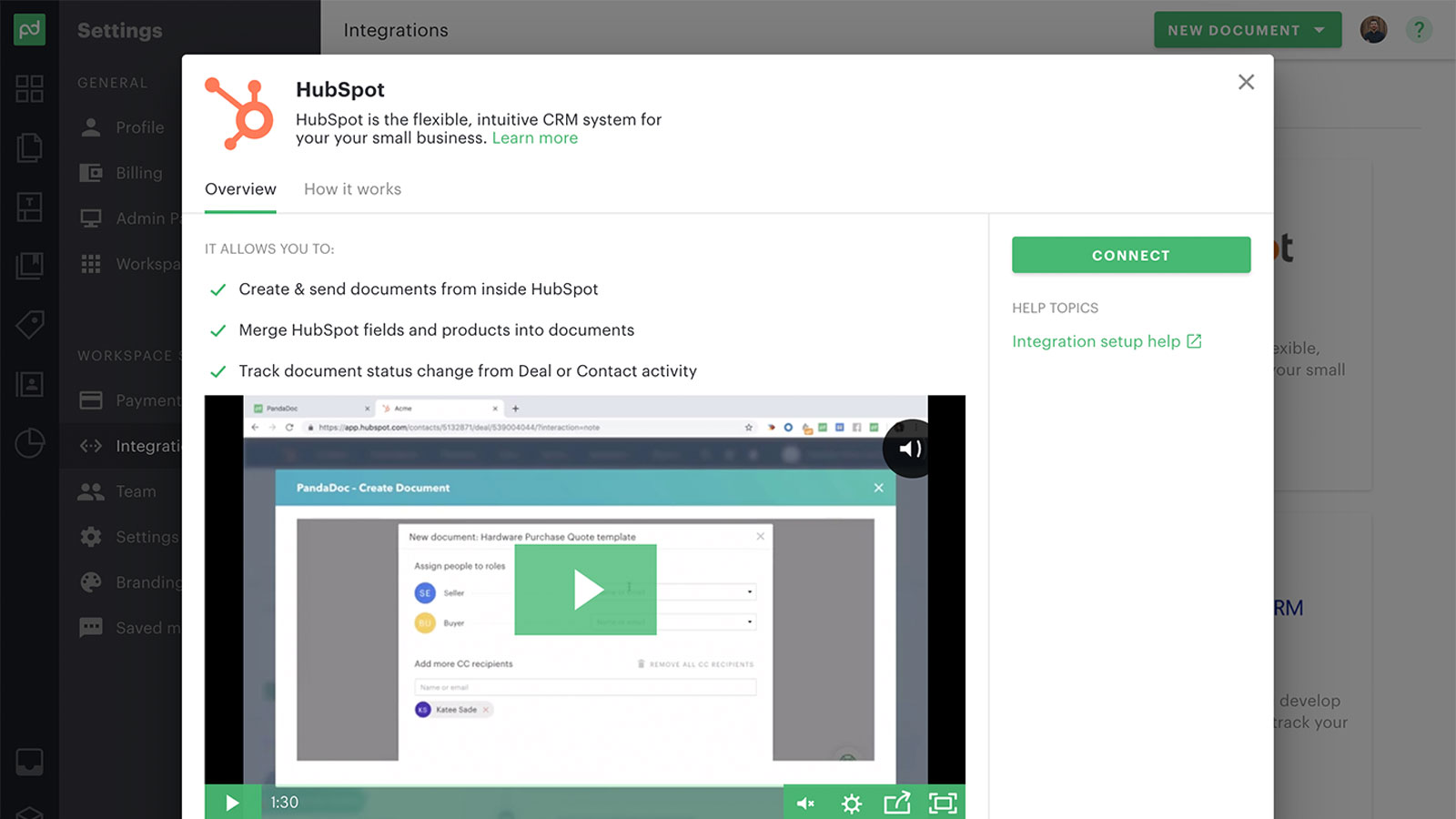 So the sale is done and it is time to cross the t's and dot the i's with a formal agreement — this is where the HubSpot/PandaDoc integration really shines.
When it is time to send the agreement, HubSpot pushes the relevant contact information for the agreement into PandaDoc. The information from HubSpot is merged into a PandaDoc template and sent to the client for his or her signature.
Once the agreement is signed, a notice is pushed back to HubSpot, and it appears on the contact record timeline. This notice of signature can be used to trigger workflows that notify you and/or send an automated welcome email to the new client.
9. Zapier: Fostering HubSpot Integrations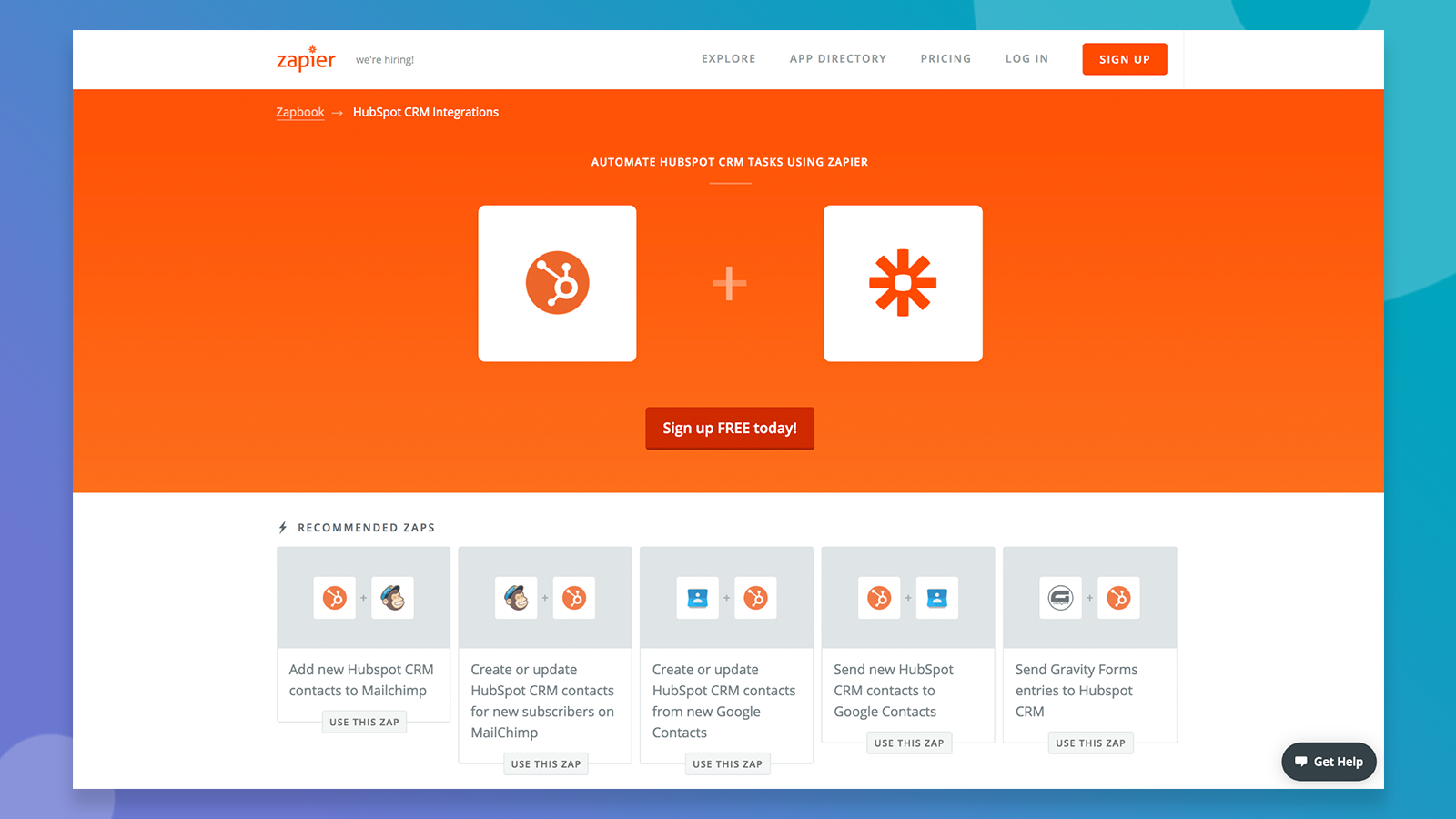 Zapier is the mother of all integrations. It is to APIs what Microsoft Windows was once to DOS; it is an easy-to-use graphical user interface that simplifies what once was accessible only to those who knew coding.
When you want to integrate HubSpot with another application and there isn't a direct integration, Zapier comes to the rescue. Here are some examples of what Zapier can do:
Create a new customer in Quickbooks Online when you close a new customer in HubSpot
Create a new row in a Google Sheet sales spreadsheet with deal information when a new deal is created in HubSpot CRM
Add a new contact to Google Contacts when a new HubSpot contact is created
Make a new task in project management tool Asana when a new lead is created in HubSpot
While these integrations are our favorites, there are many others available. Here is a more comprehensive list.
10. Rybbon: Rewarding Motivation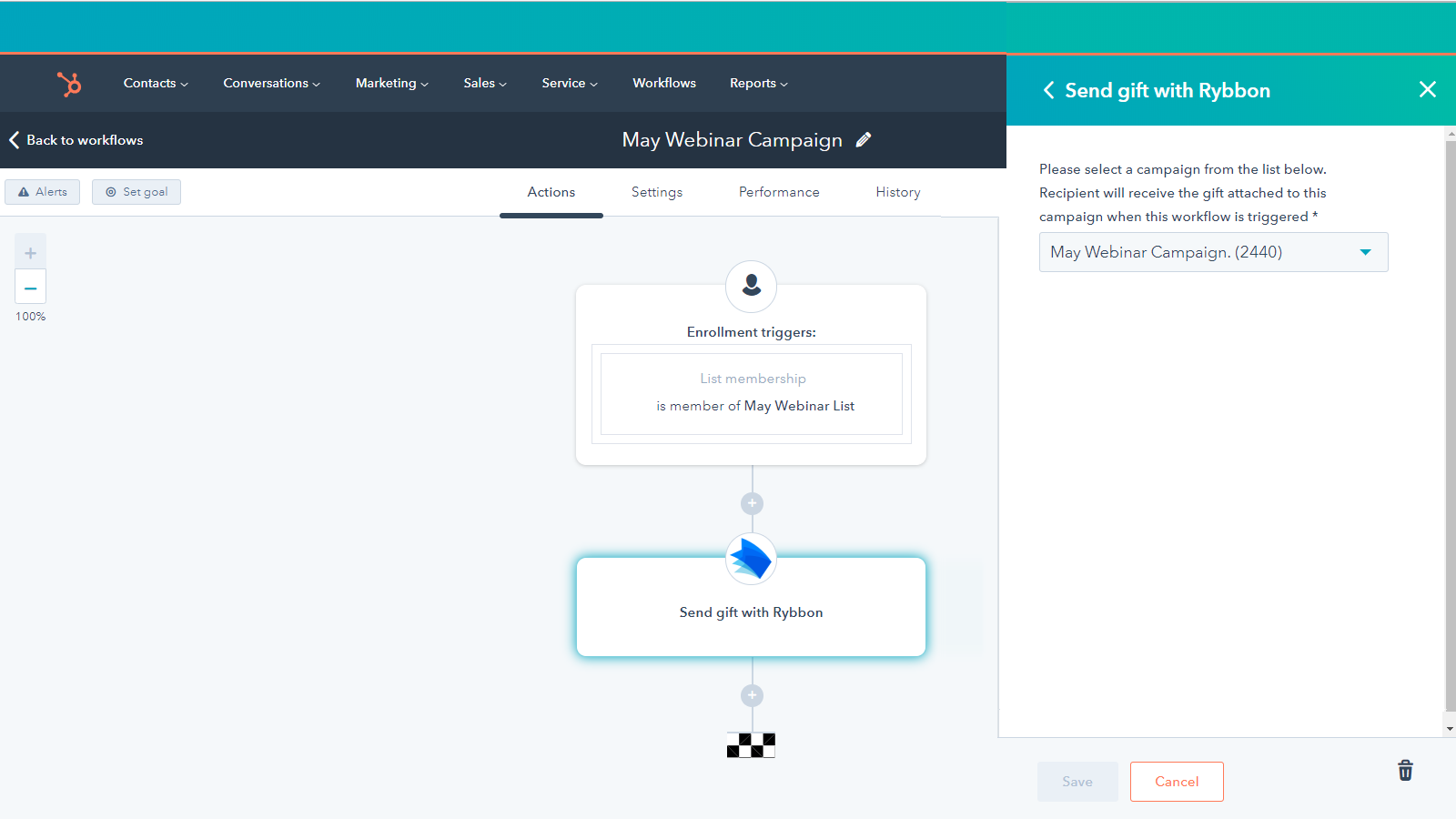 Sometimes a little incentive and reward helps with conversion rate optimization and simply showing appreciation to customers, employees, and others. The Rybbon HubSpot integration sends, tracks, and manages digital rewards programs all from one program. Marketing teams can send rewards and incentives from brands like Amazon, Visa, Mastercard, DoorDash, Uber, Grubhub, Google Play, and others using Rybbon.
Workflows automate rewards delivery to reward contacts for survey response submissions, webinar attendance, and other actions
Boost engagement by providing a safe, secure way to motivate prospects throughout the buying journey
Incentives automation motivates sales teams and other employees who can automatically get a giftcard or similar reward when closing a sale or hitting a benchmark, for example
The Rybbon integration also integrates instant rewards and point-to-rewards programs into your marketing, survey, employee incentive, or customer-appreciation marketing campaigns. You can also send digital gift cards via email, text, apps, and HubSpot workflows.
11. Sprout Social: Connecting Social and Customer Care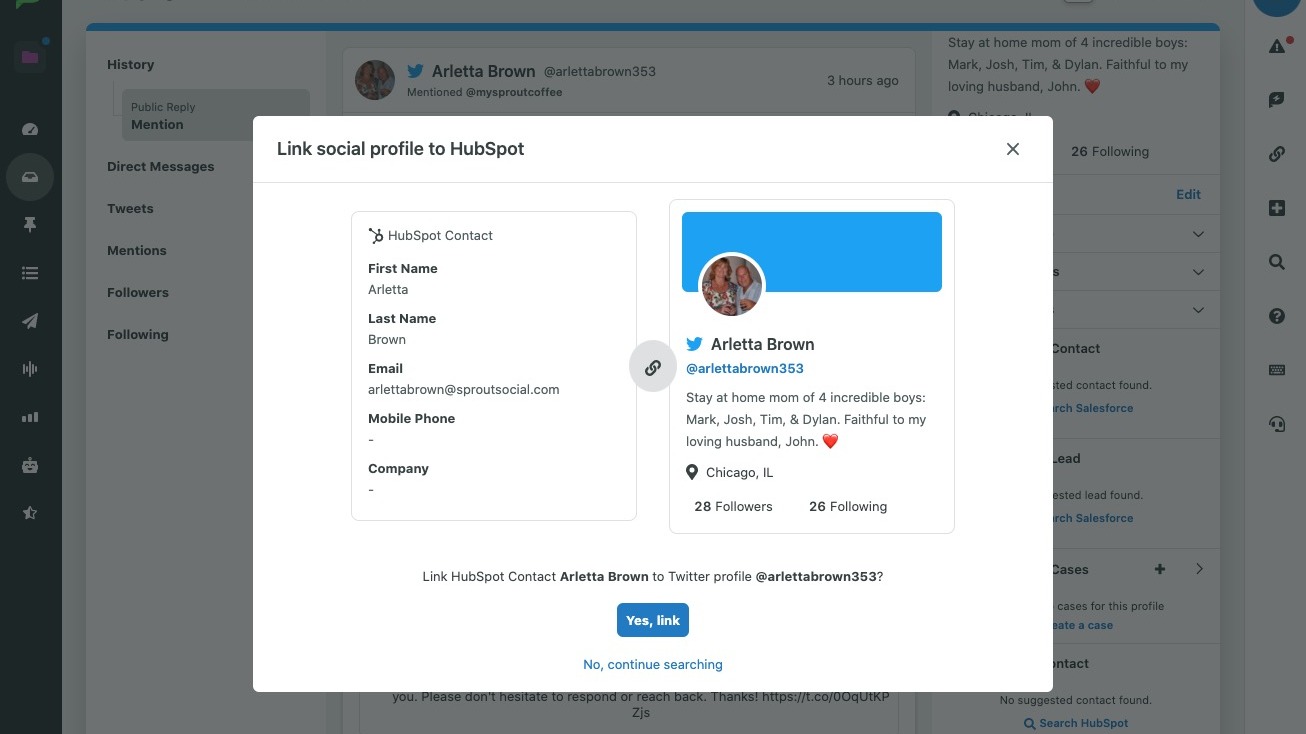 The Sprout Social HubSpot integration brings Sprout's social media insight and customer care features directly into HubSpot. The integration allows bidirectional communication from contacts and tickets between Sprout and HubSpot, which lets marketing professionals streamline communications between social and customer support teams.
When connected, this HubSpot integration permits:
Creating or linking a HubSpot contact to a social profile from Sprout
Viewing tickets connected to a link contact in Sprout
Creating, editing, and commenting on HubSpot tickets directly from Sprout
When social marketing teams and customer care teams collaborate, connections and solutions happen faster.
Calls Us for a Hand or a HubSpot Audit
Don't get left behind by those who are learning new tools and streamlining integrations to enhance their marketing and sales teams. By all means give us a call if you're looking for advice or help! Our team of experts can provide an audit of your HubSpot portal to make sure that you're using marketing tools to their potential and that you're best set up for HubSpot marketing success.

Jake Fisher
Jake Fisher, is President and Co-Founder of BridgeRev. He helps our clients with their revenue and growth goals by providing better strategies, better processes, and better technology. He also makes videos and written content to help entrepreneurs, business owners, and managers achieve their own revenue goals. And, he talks to business and industry leaders at conferences and association events.