GETTING ENOUGH OUT OF YOUR HUBSPOT?
Score a HubSpot portal audit — on us.
Our experienced digital strategists will audit your HubSpot portal and give you actionable items to increase your marketing efficiency, ROI, and alignment to RevOps best practices. When you get an audit from BridgeRev, you're receiving a thorough assessment to find marketing gaps in your process.
There's no risk, no obligation, and no credit card required.
The Fine Print
Due to high demand, and our marketing team's bandwidth, we are limited to four free HubSpot portal audits each month.
If you're looking to get a second opinion immediately (we get it!), we can help with that. Jump the line and skip the wait by purchasing your HubSpot portal at this link.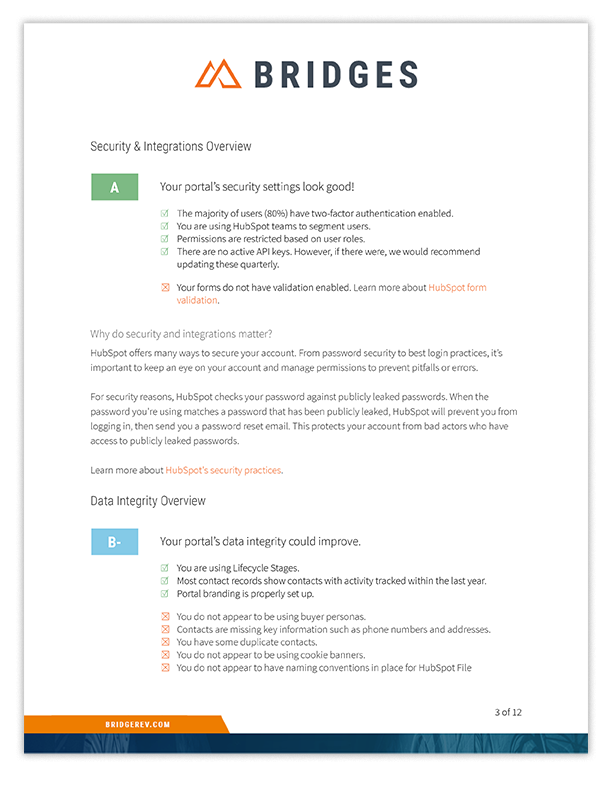 What can I expect from a BridgeRev HubSpot Portal Audit?
What sets a BridgeRev HubSpot portal audit apart is that we step outside of marketing silos. Our mission for everyone we work with is to help align your sales, service, and marketing hubs.
A detailed assessment and downloadable report.
We will conduct an extensive audit of your current inbound marketing efforts and campaigns, as well as an assessment of how to best utilize the HubSpot toolset to meet your sales, marketing, and service goals.
A checklist of action items to increase your HubSpot efficiency immediately.
Our team will discuss the strengths and weaknesses of your inbound marketing program with you and deliver actionable items to immediately increase the efficiency of your marketing efforts.
A review of hidden opportunities to increase ROI.
We will also help you explore hidden opportunities to increase your return on investment and maximize your HubSpot portal's performance.
What's inside the HubSpot Portal Audit review report?
Platform Engagement Index Score
Our powerful tool compares you to other HubSpot users and grades your portal use on a 10 point scale. We can tell you how you compare to your peers on engagement and over all portal use.
Detailed Explanations and Definitions of Key Terms
One of the core values that comprise how we work at BridgeRev is that of radical transparency. So what we won't do in this report is spew a lot of "advertiser speak" at you and consider our job done.

The best working relationships stem from a clarity of vision and a shared mutual understanding — even if you're just looking to get a free audit from us.
Review and Recommendations
In the review portion of the audit, we cover an overall executive summary in addition to five essential HubSpot domains. Each HubSpot category has subscores and recommendations for each. Explore our definitions and what comprises the areas of this report.
A HubSpot Action Plan
The worst part about most audits? You're left wondering "now what?" Not a BridgeRev audit. At the the end of this document, we give you a specific and limited scope of focus which tells you what to do right now. The specificity and limited nature of this plan will give it staying power. (After all, who doesn't love a good S.M.A.R.T. goal?)
Of course, if you want someone to tackle all the items on your to-do list, we can tackle them for you. Learn more about our HubSpot implementation and portal clean-up services.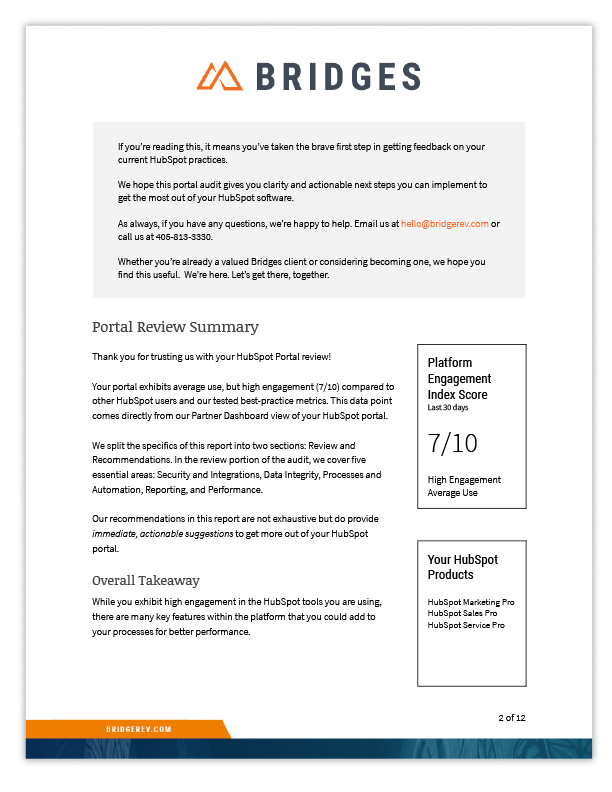 "I think you all hit the nail on the head with the audit. My question to you is: what do you think we should do next?"
Why a HubSpot portal review with BridgeRev?
We measure success the way you do: by the bottom line.
Our approach is radically different.
The team at BridgeRev specializes in B2B partnerships that result in dramatic growth and transformation.
With strategy embedded in every step of our process, we offer leadership, direction, and advice that go beyond the scope of sales or marketing. By harnessing data, we help you make informed decisions.
We're in the trenches with you and offer practical advice to maximize your ROI. We're also a Diamond-Tiered HubSpot Partner, have HubSpot Certified Developers and are a part of the HubSpot Partner Advisory Council.