Case Study
Landscaping Supplier Revamps Website to Increase Traffic by 538% — and Business is Booming
Client
Mincik Materials
INDUSTRY
Landscape Supply, Contractor Supply
INVOLVEMENT
Digital Marketing Foundations
Website Migration
Technical SEO Fixes
Conversion Rate Optimization/UX Improvements
Local SEO
"I am impressed by the work BridgeRev has done for our company. They are innovative, and tenacious. I felt I knew a lot about digital marketing until I met this company. BridgeRev has achieved success by being strategic in our digital marketing."
Sam Minick | Minick Materials
Executive Summary
Minick Materials has been a mainstay in the Oklahoma landscaping space since 1958 — but the team was ready to expand to new customers outside of existing brand recognition.
By providing a B2C-like experience to B2B customers, Minick increased profitability and cemented itself as a significant brand player in the landscaping materials supply industry.
Here's how the team at BridgeRev helped Minick improve their business outcomes through web migration, SEO fixes and improvements, and web UX improvements.
About Minick Materials
Minick Materials is a landscaping supply business headquartered in Oklahoma with multiple locations statewide.
The company began as a topsoil and sand delivery company but transformed into one of the largest regional landscape material distributors, shipping local and nationwide orders. While Minick has always maintained a strong retail presence, the primary customers are landscapers and construction companies already familiar with the brand.
Minick had tried traditional advertising in the past to combat this, with little results to show for it. The company's website needed refreshing. Also, Minick was frustrated that potential customers were having difficulties arriving at one of their locations due to inaccuracies in Google Maps.
Assessing Minick's Challenges
After evaluating the existing site, BridgeRev learned that it was static-coded and had no content management system (CMS) for updating content. While there is nothing inherently wrong with this approach, the lack of a CMS made site updates labor-intensive. It also proved to be a roadblock in being responsive to customer needs and sharing information quickly.
The team at BridgeRev also discovered Minick's existing site was receiving little organic traffic. The little organic traffic it did receive was from people searching for the company's name — known as branded searches.

Despite the fact that the site contained a significant amount of high-value content about the products, the site did not appear for searches related to the products they sell. This usually means that a site has significant technical SEO problems.
BridgeRev also noticed that the website was not designed to generate online leads.
Problems:
Static-coded site with no CRM
Little organic traffic outside of branded search
Web UX design that inhibited lead generation
Local and technical SEO issues
Defining Minick's Objectives
BridgeRev found that the technical SEO problems kept the site from ranking at the top for high-value and high volume searches. The team also knew that ineffective site design was wasting opportunities to generate leads from website visitors. They anticipated Minick would see an almost immediate improvement in business levels once they fixed the problems.
Migrate the current site to a flexible CRM so website updates would be simple
Make design changes to the site to stimulates lead generation
Fix the technical SEO problems
Fix the problem associated with Google Maps and other directories navigating customers to incorrect locations
Establish analytics, reporting, dashboards and benchmarks for future growth to enable Minick to forecast sales and hiring initiatives
Solution
BridgeRev migrated the inflexible static-coded website to the WordPress CMS, fixed the technical SEO problems, and made the requested site changes.
For the Google Maps problem, BridgeRev used their standard local SEO solution to make all of their locations accurate and consistent on Google, Bing, Yelp, and more than a hundred more websites.
Finally, BridgeRev recommended Minick to sign up for Marketing Foundations package. Marketing Foundations is the foundation for how BridgeRev engages with companies to achieve their marketing goals. The processes and data associated with the Marketing Foundation package is critical to all of BridgeRev's digital marketing efforts and the client's overall marketing success. Achieving transformational growth and dramatic results for a business requires ongoing improvement, which Minick was ready to take on.
Immediate Results
Free of technical SEO problems and UX challenges, the new website immediately began ranking high for high-value product-oriented searches and converting leads.
% decrease
in branded search (from 99 to 68%)
products
ranking in Google's top 3 search results
% increase
in online leads generated the first month
Long-Term Results of the BridgeRev-Minick Partnership
The company is now a regional player in its market, selling products to business and consumer clients throughout the United States.
Over the next 12 months, lead volume increased to a point that the company hired an additional employee to manage online leads and sales.
In 2020, BridgeRev migrated the WordPress website to HubSpot. This helped to consolidate the client's tech stack, improved website speed, and increased efficiency.
Overall website traffic has grown by over 538%. Organic traffic alone rose from 1,765 sessions in August of 2018 to 14,921 in April of 2021. The number of leads has increased from 90 a month to 350+ in the high season, with the most leads coming from organic traffic.
% increase
in overall website traffic
+ monthly leads
in the high season
+ keywords
on the first page of Google
Ready for your business to take off?
Working with BridgeRev means you'll have a marketing partner not just for today or even this year — but for the long haul.
BridgeRev can help you transform how you do business, providing you the support you and your team need. If you're ready to not just crush next quarter's goals but your five-year plan, we want to hear from you.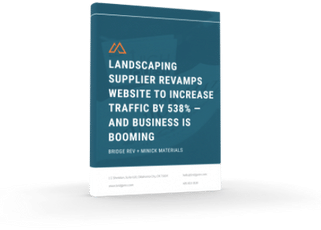 Download Your Free PDF
Get Minick Materials' case study to learn more about how BridgeRev can grow your revenue.
Download Your Free PDF
Learn more about the strategies we use to grow our clients' businesses with this case study.