Even the most hardened, old-school business people will have to agree that a website is an absolute must for any company: among other things it gives you 24/7 representation, allows you to interact with customers more directly and even sells your product or service while you're asleep.
There are basically three ways in which you can go about your company's web design, and they are illustrated in the chart below: traditional web design, growth driven design, and DIY.
Each approach to web design comes with an estimated cost, an approximate development time and an evaluation system to determine its effectiveness.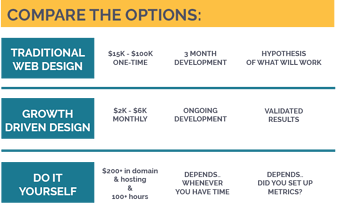 Traditional Website Design
The traditional approach to web design involves a large upfront payment. You choose a design or marketing company, pay them a lump sum between $15K-$100K, and tell them "this is my business and this is what I want from our website". They will work on it for 3 months with designers, programmers and other experts, and at the end of this period you will have a fully operational website, with the caveat that you still don't know if this website will be what your customers want and what works best for your business.
DIY Website Design
The DIY approach requires a minimal investment to begin: getting a domain and enough hosting will cost about $200, plus 100+ hours of design and development. Many business owners who are not very familiar with the digital world think that their web savvy children or grandchildren can whip up a website and save them money, and technically they're right.
However, you get what you pay for, and customers can tell a homegrown website a mile off - and make their decisions accordingly. Also, with no professional guidance on web design and evaluation, you will have little to no control on how well your website is actually doing and how to improve on it.
Growth Driven Designed Websites
This leaves us with the third approach: growth driven design.

Growth driven design approaches web design in stages, so you can budget your growth through monthly payments of $2K-$6K. You will retain a team of web experts: graphic desingers, coders and programmers, and very importantly: experts in SEO and marketing who will constantly evaluate your website's success and your customers' behavior and feedback.
This way your website can grow slowly in the right directions, taking into account your specific business needs, your customer base's preferences and the actual results in terms of sales, growth and exposure.
Growth driven design lets you acquire a powerful, fancy website that actually works for your business goals and that you can pay in small tracts.
If you're looking for a results-driven, web design company give us a call or request a free, instant website audit.

Ashley Quintana, M.S., B.A.
Ashley Quintana is a co-founder of BridgeRev. In her role, she develops, leads, and executes digital marketing strategies for the company's growing client base, including a Fortune 500 subsidiary and an NBA basketball team. Ashley's work can be found in the Hispanic Journal of Behavioral Science, and she is an OKC.biz 40 Under 40 honoree for her leadership in business and community. She frequently speaks at universities, churches, and conferences on marketing, diversity, and business.