In our seven years of business, we've talked to a lot of family-owned, legacy and small businesses over the years. They usually reach out to us when business has slowed down, seemingly overnight.
These business owners know they need a new strategy to grow the business, because obviously, what they've been doing isn't working anymore.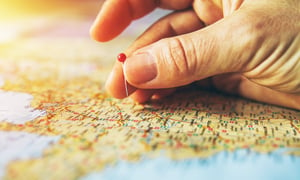 So often, the root of the problem lies in the fact that they haven't taken the time to establish a powerful and consistent digital presence. Customers in the local area may know all about, for example, Dr. Tooth's Dental Office and the services they provide, but anyone looking online for the same services won't find Dr. Tooth's without a lot of digging, if at all.
That's when local SEO can play a big role in getting back to the good ol' days. And the enormous benefits of local SEO aren't restricted just to businesses that serve customers at a brick-and-mortar location. All kinds of businesses in many different sectors can build online credibility and grow the business using local SEO.
What is Local SEO?
Local Search Engine Optimization (SEO) is a set of effective online marketing practices (and related tools) for businesses who want to reach more local customers within a specific geographic area online.
Also known as local SEO marketing, local SEO helps businesses to get their products and services in front of local customers at precisely the time they're looking for them online.
There are a variety of different approaches, but local SEO generally employs very different methods than standard SEO or topical SEO.
Why is Local SEO Important?
Customers haven't used the Yellow Pages to find local goods and services they need for a long time. They search online.
And, 96% of these potential customers conduct local searches--- that is, XYZ services (or products) 'near me' or within a specific zip code. They look at things like a company's address or phone number to determine if it's a local business. And most don't have a specific business in mind when they begin their hunt, only that they need a particular product or service--- and they want it to be close by.
Local SEO doesn't just increase traffic to your website, it increases targeted traffic (i.e. people already in need of your goods or services).
There's a difference between someone searching "home repairs" and "home repairs Dallas TX." The former indicates the person is looking for very general information, while the latter indicates someone who's ready to buy.
>Businesses who use a local SEO strategy are far more likely to be found by these customers, and at exactly the time they really need what they have to offer.
Statistics show 80% of your potential customers will never know you exist if your business isn't optimized for local SEO search. Without a local SEO strategy, customers can't find you. It's as simple as that.
How Does Local SEO Work?
Local SEO strategy requires that businesses thoroughly audit their existing site for common security issues, or items that make it hard for search engines to crawl and index it. Once identified, it's time to address those issues, and in some cases, it means a complete overhaul of the site if it hasn't been updated in a long time.
Local SEO also means local keyword research to determine what specific words your potential customers are using to do their searches. But it's a little more nuanced than that; you want to identify words that indicate a buyer's intent. For example, they may be searching for local businesses, but are they casually browsing, or are they ready to purchase? You'll want to identify which words are commonly used when a potential customer is about to buy.
Often, a local SEO strategy involves researching competitors.
What words are they using to bring up their business in local searches?
What sorts of local links have they cultivated?
This is good information when you're optimizing for local searches.
Once you've identified your target demographic and the keywords they're using to search, you'll need to start creating content around those words, and place them in strategic areas of that content (e.g. embedded in page titles or within the first 50-100 words of a blog post). Sometimes this means creating blog posts, but don't discount videos since they can be optimized as well.
>Finally, you need to build local links, which are like votes for your website. The more links that are pointing from other websites to yours, the more often your business will get found. Ideally, you want the majority of your local links to come from "authority" websites as opposed to, say, your best friend's brand new website.

What Goes into a Strong Local SEO Strategy?
A powerful local SEO strategy has many moving parts and can, of course, be customized to specific industries or sectors. But there are a few, universal touchstones for creating a killer local SEO strategy.
A Fast & Easy to Find Website
If your potential customer keeps getting the rainbow wheel of death when they click on your site, they'll move on quickly. So not only do you need to optimize your website for searches, it has to load swiftly.
Content About Your Products & Services
As mentioned above, the more content you have containing embedded keywords, the more chances your target customer's searches will point them to your website.
It's important to keep in mind, content should be well written, of high quality and full of useful information. Offer something of value, a piece of expert advice for example, to keep your potential customer engaged. Throwing a bunch of keywords into a poorly written blog post isn't going to cut the mustard.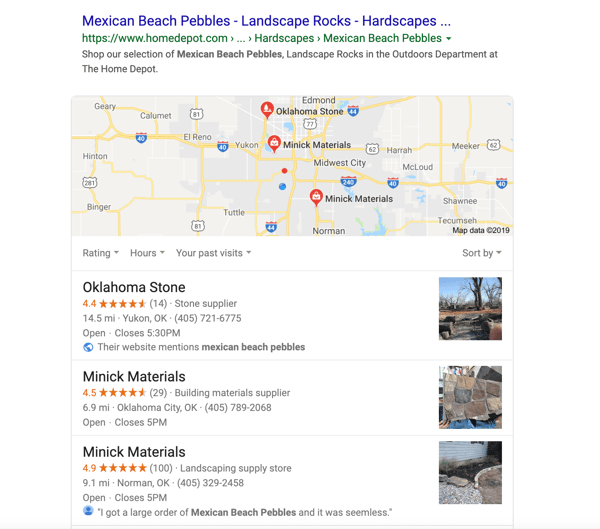 Website Localization
This strategy adapts your existing website to specific local language and culture unique to your target market, using relevant linguistic contexts and references.
But don't get it confused with a mere translation of existing text. Images, language, and overall design must resonate with your target audience, without compromising the integrity of the website itself.
Among other things, doing this reduces the cognitive effort required for a potential customer to process the information you're trying to share, which leaves them with a favorable impression of your website (and your services or products).
Website localization, not surprisingly, leans heavily on programming expertise and a solid understanding of linguistics and cultural norms.
Technical SEO
Technical SEO is a component of what's called "on-page SEO," meaning it focuses on improving elements on your website rather than out on the wild wild web.
Improving technical aspects of a website increases its search engine ranking and makes it faster and easier for search engines to crawl and "understand" the website. For example, Google's robots crawl the web and use algorithms to evaluate sites for the best possible content in response to specific queries. Technical SEO that caters to these algorithms helps raise your profile in Google's search engine.
Metadata
In very simple terms, metadata is a series of micro communications between your website and search engines that crawl the web.
While generally invisible to potential customers, the work it does behind the scenes is crucial to getting your business found. The metadata "speaks" to the engines directly, telling them important information and requesting specific actions.
Metadata drives SEO and without an effective metadata strategy, your site won't demonstrate relevance to the search engines your customers are using to find you, which lowers your site's ranking.
Aggregate Rating
Implementing aggregate rating is an effective way to get the attention of your target customer by collecting online reviews from users and featuring them (sometimes these show up as star ratings in local search results).
Aggregate rating techniques use things like microdata, Resource Description Framework in Attributes (or RDFa), and JavaScript Notation-Linked Data (JSON-LD) to capture the attention of your potential customer, even if your site doesn't appear at the top of a Search Engine Results Page (or SERPA).
Title Tags
These HTML elements appear on SERPs as the clickable headline that comes up in response to a query. They also display in browser bookmarks and are generally visible in the title bar and should be an accurate, succinct description of a page's content. They're also used by external websites (social media networks in particular) to determine what title and image pop up when your page gets shared.
Title tags are hugely important because they figure heavily in how a search engine understands what your page is all about. That and they are generally a potential customer's first introduction to your business.

Listings & Directories
To get found, you'll need to submit your website URL on various business or web directories to create backlinks, which improve your site's ranking. Cultivating a presence on these directories exposes your business, goods, and services to a wide audience of local searchers.
Bing Places
Bing Places is one of the best tools out there to get businesses found online by easily and conveniently displaying information for a potential customer.
But be aware, it's a far more complex process than simply claiming and creating an account, and comes with its own set of challenges. Many businesses seek the assistance of local SEO experts to use this tool effectively.
Better Business Bureau
The Better Business Bureau is a "high authority" site and has a tremendous level of credibility, so getting your business listed with them, by association, lends credibility to your company.
Equally if not more importantly, search engines "know" that BBB-accredited companies must go through a rigorous qualification process to get vetted and approved for accreditation, so a listing on their site produces strong organic rankings. In fact, Googles' PageRank algorithm gives the BBB a value of 8 out of 10, so listing your company with them gives you a much better chance of getting found.
Listing with the BBB is a powerful way to boost your company's internet marketing efforts.
Google My Business / Google Places
Many internet marketing SEO experts list Google My Business and Google Places as one of the most important marketing channels, second only to a local business' website.
In fact, most view optimizing these profiles as absolutely necessary if you want to rank higher in local searches and distinguish yourself from the rest of the pack.
To optimize your profiles, you'll need to do things like verify and provide complete and thorough information about your business, pick relevant categories, include images and seek reviews. s.
Yelp
Because major search engines (think Google or Bing) index Yelp results, it's hugely advantageous to optimize your Yelp profile in much the same way as for Google My Business and Google Places.
Doing this not only helps improve your business's ranking, but it also presents many opportunities for backlinks as others link to your website and Yelp profile.
Other Online Directories
There are many other online directories, including map listings like Google Maps, and any local SEO strategy should involve researching and listing on the ones that will most likely capture the attention of your target audience. It's no secret that the digital business world is a cut-throat place, and social transparency has become the coin of the realm. So establishing and cultivating a positive online reputation is one of the most important things a local business can do to succeed.

Review Generation & Reputation Management
It's no secret that the digital business world is a cut-throat place, and social transparency has become the coin of the realm. So establishing and cultivating a positive online reputation is one of the most important things a local business can do to succeed.
Social Media Presence
New social media platforms seem to emerge every day, but here we'll discuss six of the most prominent ones.
For any social media platform, however, you'll need to optimize your profile and pages to get the most benefit from them.
That means auditing them for 'spam-y' posts and links, keeping them up to date and regularly posting favorable articles, news and press releases to favorably impact online reputation and visibility
Facebook
Positive local reviews on your Facebook business page will go a long way in establishing your business' credibility.
LinkedIn
LinkedIn uses algorithms to calculate your "reputation score" based upon things like your social media and Google reputation scores, which in turn impacts your ability to be found. So positive scores drive high reputation scores.
In very broad terms, the end goal for using Twitter in your local SEO strategy is to get potential customers so engaged with you that they will actually leave Twitter to seek out your page. (This obviously implies you've got to keep your website updated and relevant.)
Many local SEO companies build their Twitter strategy around creating conversations with talking points that involve keywords. But beware, you'll have to initiate new conversations regularly so your topics don't become stale.
YouTube
Local SEO can optimize YouTube videos, playlists and channels to rank high in their organic search results for a particular query. This involves a deep level of understanding of YouTube's discovery and search ranking algorithms.
But posting highly engaging videos regularly pays off because YouTube rewards content creators who do so with higher visibility.
Instagram
Because so much of today's economy is attention-based, images are what connect with potential customers most effectively.
And because it's such a visual platform, Instagram is a natural way for digital marketers to grow a company's presence on the web.
Pinterest
Yet another highly visual social media platform, Pinterest is a huge driver of website traffic across all industries. (In fact, by some estimates, Pinterest is responsible for about 5% of all referral traffic. That's huge.)
And what makes Pinterest even more attractive to marketers is that its users are generally ready to buy, and tend to spend even more money on average than they do on Facebook or Twitter.
Link Building
Local businesses can leverage a powerful tool by building links to marketing and synergy partners and local organizations like the Chamber of Commerce.
This is because links signal Google that your site is quality and a good resource for its viewers. Sites with more backlinks tend to earn higher rankings and links from authoritative websites (see Better Business Bureau as discussed above) is a powerful way to amplify content.
How Much Does Local SEO Cost?
Although most businesses look for the best deal for the greatest value, astute marketers know going 'cheap' isn't always the best tactic. And that's especially true for local SEO services because not all local SEO experts are equal. As the old adage warns: you get what you pay for.
Obviously, an investment in a local SEO campaign varies depending on your business' specific needs, level of competition and geographic location.
But the service provider should always be 100% transparent with you about what it will cost, up front. Beware the deals that are too good to be true. We've heard more than our fair share of horror stories from customers who thought they were getting a great deal only to be gouged at the end, or saddled with an ineffective strategy. Those assisting you should be able to show you concrete results through Google Analytics or a similar service.
What's Next?
You can start with fairly simple things like claiming your online profiles and updating the content on your website. For the more complex aspects of building an effective local SEO strategy, many companies turn to experts for professional help. We'd love to talk!

Jake Fisher
Jake Fisher, is President and Co-Founder of BridgeRev. He helps our clients with their revenue and growth goals by providing better strategies, better processes, and better technology. He also makes videos and written content to help entrepreneurs, business owners, and managers achieve their own revenue goals. And, he talks to business and industry leaders at conferences and association events.