Simply put, growth-driven design is a better way to build a website and make it your best salesperson... ever.
How are traditional website design and growth-driven web design different?
Traditional website design methods are different from growth-driven web design on investment, timeline and functionality.
Traditional websites cost anywhere from $15,000 to $100,000 and take about 3 months to build. Growth-driven Web Design cost $2,000 to $6,000 per month. They are continuously improved and optimized. The initial launchpad website is delivered in about 30 days. Then there's always a DIY website....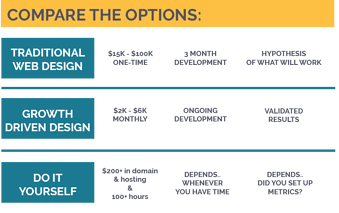 If you want a website that performs, drives traffic and generates leads, we can help.
What are the benefits of growth driven designed websites?
Website design that is budget friendly
Instead of one-time lump sum, you pay a single monthly fee. With GDD, we start with a lean and focused website that is always changing and evolving. From there we add the items on your wishlist.


Websites that grow your business
Your website will tell you what your customers are viewing, clicking on & more. We are constantly researching, testing and learning about our visitors to inform ongoing website improvements, marketing & sales.


Websites that get you more for your money
We minimize the risk associated with website redesigns (like performance dips due to poorer UX, SEO penalties and a large upfront expense) by improving instead of doing big redesigns.


Why do growth driven designed websites work?
Many websites are built with no discernible goal in mind. Yet a company's website is important. It can be a top salesperson. Unfortunately, it is often a jumble of text and images that add very little to the top line. and often are very expensive up front.


Your website should always be improving
Fortunately, there is a better way to make websites with less risk and more contribution to sales. Growth driven design works because it is agile and focuses on the user. Instead of building a website that guesses at the user experience, with GDD we build, test, learn and repeat. The result? You have a website that grows with your business.


How is your current website performing?
Find out with a free website audit! We'll tell you how much traffic you're getting and give you next steps for improvement!


How we build successful websites in four phases:
Website Wishlist
It's alright to dream a little! We believe every website should start with a wishlist. Wishlists are about getting everything you could want on paper, and then prioritizing which items will most greatly impact your bottom line.


Website Strategy
A successful website strategy needs to be agile. Structure allows repeatable results, but the agile framework allows us to focus on action items & wish list items with the greatest impact.


Launch Pad Website
We start with a launch pad website. Launch pad sites are fully developed, complete websites that we add onto. Launch pad sites typically take 4-6 weeks to get up and running.


Continuous Improvement
We use the Hubspot platform, Google Analytics, heat maps and other online tools to grow the site according to the wish list and what's impacting the user.
How can I implement growth-driven design for my website?
Our FREE e-book, An Introduction to Growth Driven Design will show you how to implement the GDD methodology for your website.

Ashley Quintana, M.S., B.A.
Ashley Quintana is a co-founder of BridgeRev. In her role, she develops, leads, and executes digital marketing strategies for the company's growing client base, including a Fortune 500 subsidiary and an NBA basketball team. Ashley's work can be found in the Hispanic Journal of Behavioral Science, and she is an OKC.biz 40 Under 40 honoree for her leadership in business and community. She frequently speaks at universities, churches, and conferences on marketing, diversity, and business.