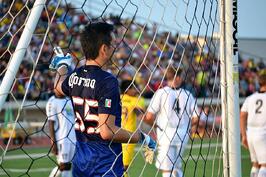 By all accounts, professional soccer in Oklahoma City is off to a fine start. Average home game attendance of 3,784 (according to DohertySoccer.com), ranked #4 in the third tier USL Pro league with almost 3,800 average attendance.
There is excitement about next season as the team will move homes games to the newly renovated Taft Stadium.
Oklahoma City Energy isn't the first team to draw that thousands to a soccer game in Oklahoma City. In fact, just less than a year before the Energy debuted, another soccer game drew over 5,000 fans (more than the highest attended Energy game in 2014).
Club America, one of Mexico's most famous sports brands, brought its U-20 squad to play Oklahoma City FC in a "friendly" soccer match on June 30, 2013 at Putnam City Stadium. Kickoff was at 7:30 p.m. 5,000+ Latino fans crowded the stands to witness the event.
Club America, commonly known as America and based in Mexico City, competes in the Liga MX, the top professional league in Mexico. The team plays its home games at the Estadio Azteca, the largest stadium in Mexico and Latin America, and the second largest stadium in the world (105,000 capacity).
America is one of the most successful clubs in Mexico. The club has 10 national titles, eight FIFA recognized international club trophies, the most for a club from the CONCACAF region and tying them with Bayern Munich, Olimpia, and Etoile du Sahel worldwide.
Check out the Facebook album by clicking here.

Ashley Quintana, M.S., B.A.
Ashley Quintana is a co-founder of BridgeRev. In her role, she develops, leads, and executes digital marketing strategies for the company's growing client base, including a Fortune 500 subsidiary and an NBA basketball team. Ashley's work can be found in the Hispanic Journal of Behavioral Science, and she is an OKC.biz 40 Under 40 honoree for her leadership in business and community. She frequently speaks at universities, churches, and conferences on marketing, diversity, and business.