CASE STUDY
Software Startup Acquired By Larger SaaS Firm After SEO Fixes
SECTOR
Software
INDUSTRY
B2B
INVOLVEMENT
Technical SEO Fixes
Website Migration
On-Page SEO Optimization
Off-Page SEO Optimization
Content Strategy
Bottom Line, BridgeRev helped us grow revenue faster.
Our Client's Former VP of Marketing and Operations
Executive Summary
Our client is an established software-as-a-service company. Their team sought out a partner like BridgeRev because they wanted to grow their customer base and potentially attract a larger technology company to acquire them within a few years.
However, their current digital marketing effort held them back from those goals. Their existing website had many SEO problems, making it difficult for anyone to find their service, even using branded search.
After fixing their technical SEO problems, BridgeRev migrated the client's WordPress site to a HubSpot site, creating a singular source of truth for sales and marketing. Better data helped our client make better content decisions that increased sales and visibility to potential purchasers.
Here's how our client attracted an acquisition while increasing sales after BridgeRev fixed their SEO problems, migrated their site to HubSpot, and created a customer acquisition strategy.
About Our Client
Our client provides a specialized SaaS offering to B2B companies. However, despite their resource-rich and user-friendly product (and some blog posts written using the inbound methodology), they were finding difficulty in increasing name recognition and sales that would set them up well for acquisition. Like many startups in the tech industry, our client's leadership was looking to sell the company eventually. They also didn't have a data-driven content strategy to cut through the noise of their competitors.
That's when their VP of Marketing and Operations contacted BridgeRev for help.
After receiving access to our client's HubSpot portal, BridgeRev found some substantial challenges facing the company. One of the issues was that only a few of the hubs were being used, and the data was split between multiple silos. This prevented the development of a robust customer acquisition strategy.
Additionally, BridgeRev found a lack of SQLs coming from the website. There was no singular source of truth for the client's site performance as there were two sets of KPIs.
Also, due to the CRM and the CMS being separate, updates took twice as long. There was also a lack of content on the website. The content that was present was not optimized for search engines.
Finally, the client's site had many technical and on-page SEO problems (like duplicate h1-tags or missing meta descriptions) that prevented improved ranking and increased traffic.
Assessing Our Client's Challenges
Problems:
No lead attribution
Lack of customer acquisition strategy
Lack of organic traffic and sales-qualified leads (SQLs)
No singular source of truth for reporting
Technical and On-Page SEO Problems
Lack of SEO Content
Defining Our Client's Objectives
Fix all technical and on-page SEO problems
Migrate existing site from WordPress to HubSpot
Implement a de-siloed approach to all the other Hubs to inform customer acquisition strategy
Optimizing existing content while developing SEO-friendly content
First, BridgeRev began implementing the other HubSpot hubs, including migrating the existing WordPress site to the HubSpot CRM to use Marketing hub. This allowed for a revenue operations approach to creating a singular source of truth for sales, marketing, and customer support to utilize.
That singular source of truth empowered the BridgeRev and client teams to develop a robust customer acquisition strategy, as they were able to track what content was drawing leads to the site. From there, BridgeRev developed processes for lead attribution so that the client knew the type of content causing end users to convert.
Secondly, BridgeRev fixed all the technical and on-page SEO problems that plagued the site. That meant taking the site down to one page then adding the corrected content back.
After that, BridgeRev found two versions of the site, one with an SSL certificate (which uses HTTPS in the domain) and one without (using HTTP).
Google's algorithm will penalize a site on multiple fronts for this error: domain trust (as the HTTP version of the site is not secured) and duplicate content. Even if the HTTPS version of the site worked well, if there was even one canonical HTTP link on the HTTPS version, that would also hurt ranking, as this would tell Google that it was the "preferred" version.

Finally, BridgeRev also took the good content from the site's first iteration and optimized it. They also developed more content clusters and other web pages for the client.
Revenue operations fixes included:
Reducing the client's existing tech stack and making a singular source of truth for reporting
Migrating their WordPress site to HubSpot and Marketing Hub
Creating customer acquisition strategies to generate leads
Technical fixes included:
Implementing lazy loading
Ensuring HTTPS and HTTP weren't indexed separately
Fixing broken internal links and broken image links
De-duplicating titles or metas
On-Page SEO fixes included:
Adding appropriate HTML and CSS tags
Adding alt-image descriptions
Adding H tags and more structural elements
Adding new meta descriptions
Immediate Results
Due to the site's migration, our client immediately found a jump in the rankings. Generally, all targeted keywords improved position from page two to a consistent page one, in positions two through four. The client was able to turn those position changes and traffic into leads by attracting high-quality SQLs to their sales department.
%
Increase in Sessions from 2018 to January 2020
Average Leads Per Month During Engagement
%
Leads Were Sales Qualified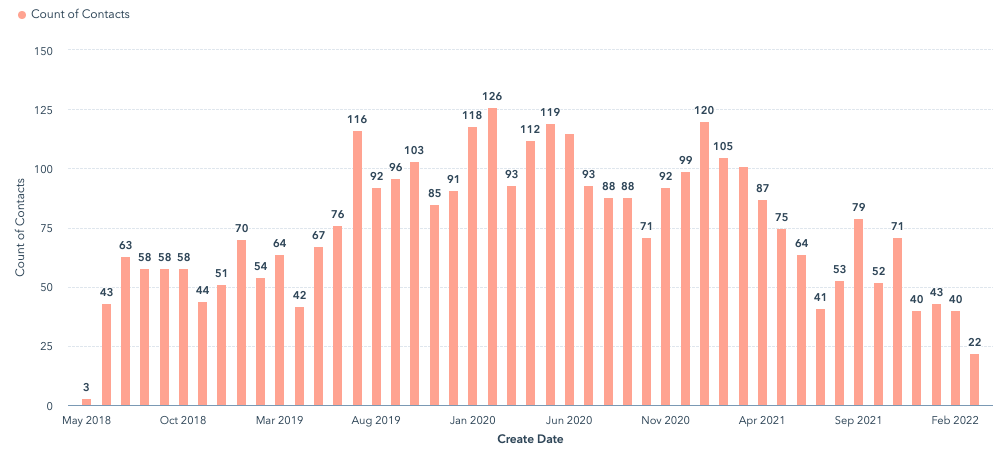 Long-Term Results of the Client's Partnership With BridgeRev
Although the client is no longer working with BridgeRev as of mid 2021, the partnership yielded the perfect end result. In 2022, our client found the acquisition they were looking for. Now that they've been acquired by a company with a similar mission, they are benefiting from the additional leadership and enhancements to their SaaS products.
Download Your Free PDF
Learn more about the strategies we use to grow our clients' businesses with this case study.
Find out how we can help your business grow.
Working with BridgeRev means you'll have a marketing partner not just for today or even this year — but for the long haul. BridgeRev can help you transform how you do business, providing you the support you and your team need.
If you're ready to not just crush next quarter's goals but your five-year plan, we want to hear from you.