Marketing Agency for Accounting Companies
Your Versatile Accounting Marketing Agency
Every day people are looking for tax help, bookkeeping, payroll services, and a great CPA to guide them through challenging financial waters. While you are probably an expert in those things, you probably aren't an expert in CPA marketing. That is where we help. We are a digital marketing agency for CPAs.
We use thoughtful, data-driven strategies to help people find your services. Because the relationship between CPAs and their clients is so close, it's especially important that the right clients are able to find you.
We can help your accounting business through proven digital marketing strategies
You wouldn't go to work on a client's file willy-nilly, without having a well-thought-out tax strategy. That would cost the client money and probably cost you the client. It works the same with digital marketing. Before we deploy marketing services, we need to know the strategy. That process starts with research.
We hate agencies that treat their clients this way.
Your accounting company will thrive when you are successfully executing the inbound marketing steps.
Attract. Convert. Close. Delight.
Before anything, the inbound marketing model requires that we thoroughly understand your present and future customers.
Buyer Personas
Understanding your ideal clients is the first step in building effective digital marketing for CPAs. We research your current clients and ideal clients using a mixture of quantitative, qualitative, and anecdotal data. From that data, we make semi-fictional representations of the ideal new client.
Buyer's Journey
Buyer's Journey
Understanding the journeys that prospects take to become your clients is critical in providing the right information at the right time and via the right channels to move prospects closed to hiring you.
We map your firm's buyer's journey from stranger to customer using the inbound marketing methodology's three stages, which are:
Awareness - the prospect is just becoming aware of a need or a problem but they haven't yet labeled it. At this point, the prospect is trying to understand the need or problem enough to give it a name.

Consideration - the prospect better understands their problem or need, enough to identify it and name it, and now they are deciding on what category of solution to choose.

Decision - the prospect has decided on a category of solution and they only need to choose a specific vendor.
Strategy Development
Your potential accounting client needs specific information at each step along the way.
Once we understand the buyer personas and the buyer's journey, we build a marketing plan to meet your aggressive growth goals.
That strategy could include any and all of the following tools and techniques: website development, SEO, content marketing, social media marketing, and more.
The final result? A steady, lead-generating machine.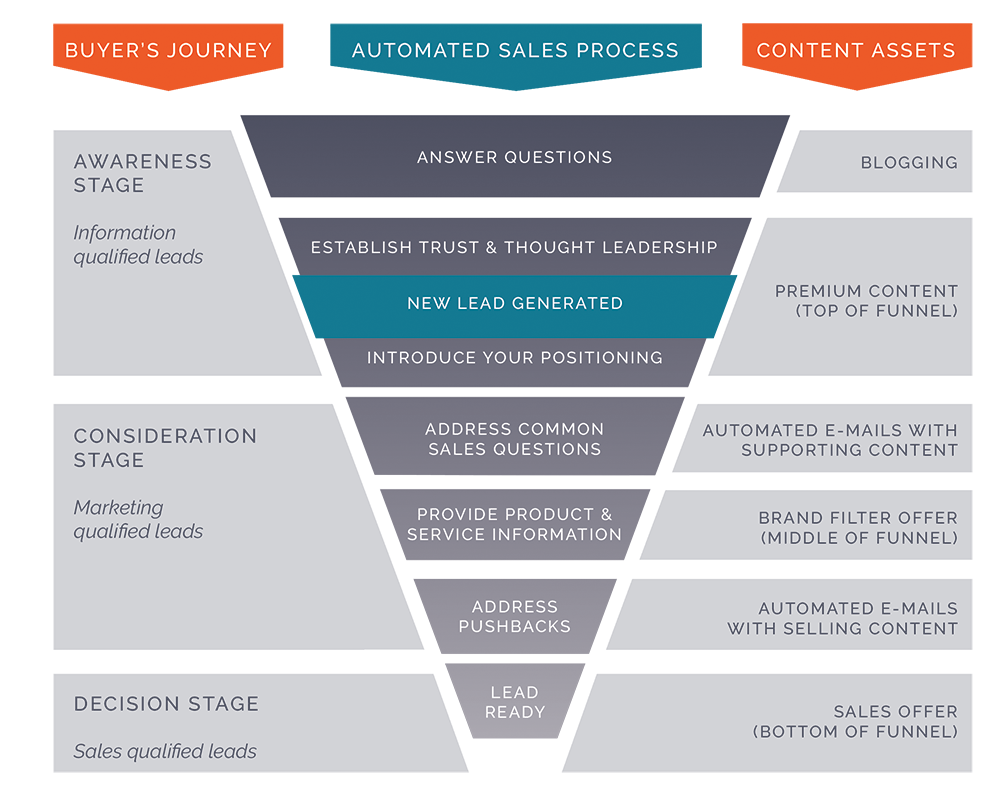 "The team's digital strategy skills and expertise lifted a huge burden from my business partner and me. We don't have to cold call clients anymore, or even reach out via social media. Bridges knows how to promote our company using language that appeals to non-accountants. They took the project and ran with it."
We ensure that you're found when and where potential customers are looking.
Potential clients need to find you. That is why you need SEO services.
When a potential client searches the internet for your services, your firm should show up in the results, in a prominent position.
Lead Generation for CPA Firms
When you hire us to make your law firm website, you don't just get a website, you usually get our services for a year.
Normally, the first iteration of your website will go live approximately 8 to 12 weeks after we start. Then, we optimize.
Generally speaking, between 2% and 5% of every visitor to your firm's website should become an identified lead. Your site should be providing enough valuable information to them that they are willing to raise their hand and identify themselves in exchange for additional value.
Are at least two out of every hundred visitors to your site become leads? If not, we can help you.
If a user is visiting your website, there is a good chance that they are interested in your services. We make it easy for them to start the process of hiring you with modern and proven tools and tactics.
Website Development
Your firm's website is the centerpiece of your digital identity. If your SEO is dialed-in, resulting in an abundance of potential customers visiting, but the site doesn't invite them any further, you are missing a huge opportunity.
We do web design differently than most marketing companies. With us, your new firm's website is live within 8 to 12 weeks. Then, we spend another 9 months measuring, analyzing and optimizing.
The only criteria for a website's success is how many qualified leads and new clients it generates. Period.
Local SEO
Your CPA firm probably has at least one brick-and-mortar location. Local SEO ensures that people can easily find that location when they are nearby and looking for your services.
We offer full-service, turnkey local SEO services that put your firm in a place where potential clients can easily find you. We manage Google My Business, Bing Places, Yelp, and more than 100 directory listings across the internet. We make sure that your locations, phone number, and website are easily found by nearby people that are looking for your services.
Topical SEO
Taxes, payroll, bookkeeping, and accounting issues can be complex, especially for business owners.
Topical SEO and content marketing connects you with these business owners that need your help. We make high-quality blog posts, graphics, and video content that is easily found by people that have questions that you can answer.
Our accounting marketing clients' websites appear at or near the top of many high-value searches.
Reputation Management
Bad online reviews can tank a firm quickly.
We provide reputation management services that preempt negative reviews; encourage positive reviews; and when an occasional negative review slips through, we deploy a rapid-response to mitigate the damage.
Social Media Marketing
Talking about digital marketing for accountants, without including social media marketing in the discussion, is not right.
If you use or have used social media for your firm, have you ever wondered why you are doing it? Do you wonder if it actually helps you attract new clients?
You never have to wonder when you work with us. Our social media tactics are always part of a larger, well-reasoned, effective marketing strategy.
You'll never make another social media post for the sake of posting.
Email Marketing
Our digital marketing services include robust email campaigns to provide longform, direct communication with contacts. Starting with quality content creation that incorporates product demos and other special offers, email marketing is a great way to make more individualized, tangible offers to contacts who have already moved into your sales funnels and shown interest in your brand.
It's common to hear that email marketing is dead or dying, but it's simply not that simple. According to findings by HubSpot, marketers see significant results from successful campaigns, and even millennials overwhelmingly prefer to be contacted by businesses through email. Like any tool, email has real power when you know how, and how not, to use it.
Marketing Automation
Our feet are firmly planted in using superior marketing technology to drive growth. At the top of the options across marketing technologies is HubSpot. A comprehensive and versatile platform, it revolutionizes your workflows for an improved outcome across your operations.
HubSpot is the ideal platform for:
Attracting visitors, leads, and users.
Personalizing the free trial experience.
Speeding up the time to value.
Shortening the sales cycle.
HubSpot has more than 160 integration partners making it easy to work with other SaaS software that you may be using. HubSpot's APIs are organized around REST, making it easy to build integrations necessary to pass information between your SaaS and HubSpot. Marketing automation on the HubSpot platform is a simple and highly effective way to increase the efficiency and effectiveness of your marketing strategy.
Serves as your marketing department, or supplements your existing one.
Marketing trends shift constantly, and keeping up is essential. It can take a significant share of your attention and other resources to stay competitive.
If you're without a marketing department, you can rely on us to fill the role as fully as an in-house team. If you do have a marketing department, we can work together to strengthen and optimize existing strategies and outcomes.
Helps you stay organized and on top of your marketing and lead gen efforts.
We're able to stay on top of the latest in technology marketing for you, helping you put more of yourself into development and future projects. With one less thing on your dashboard, you can eliminate organizational inefficiencies and devote more time, resources, and research to the development of complex products.
Knows so much more than marketing.
We bring a range of knowledge to what we do, helping us stay agile and accommodating to your needs. We stay on top of your CRM through the most effective strategies for you and your customers. Our team is fully-certified in HubSpot. We implement automation to increase efficiency.
Effective CRM and inbound marketing strategies are all about substantial customer relationships and helping people get what they actually want. Being good with people and good with tech is what makes us good at helping you reach your goals.
Delivers on our values.
Transparency is at the heart of the way we conduct ourselves and our business at Bridges. We believe that client relationships are just that: relationships. It's crucial that we act on good faith in every aspect of the services we provide.
When you work with us, you'll have a clear and complete picture up front. We don't hide anything from you, and we don't divert attention away from what's important. We'll be flexible but direct in our efforts to help you reach your goals.
Why work with Bridges for your revenue operations strategy?
We measure success the way you do: by the bottom line.
Our approach is radically different. The team at Bridges specializes in B2B partnerships that result in dramatic growth and transformation. With strategy embedded in every step of our process, we offer leadership, direction and advice that go beyond the scope of sales or marketing. By harnessing data, we help you make informed decisions.
We're in the trenches with you and offer practical advice to maximize your ROI.
Find Out Where to Get Started
If you're looking to drive traffic and grow your revenue, there's a lot to think about. While you're coming to a decision, why not take a couple of minutes to see how your website is performing as it stands? It may be a good place to start before reaching out and beginning a conversation. After that, we'd love to hear from you!