SOLUTIONS
Inbound Marketing
Bridges is, first and foremost, an inbound marketing agency.
The inbound marketing methodology is part of the DNA of our business.
Whether you are looking to partner with an inbound marketing agency to drive ahead to inbound marketing success, or you're wanting to learn more about inbound marketing for the first time we're here for you.
What is Inbound Marketing?
Inbound marketing focuses on getting found by prospects that are looking for your product or service. It is called inbound to distinguish it from interruptive outbound marketing, such as TV and radio commercials.
The first step in building a successful inbound marketing campaign is to better understand two things:
Buyer Personas
Buyer personas are semi-fictional representations of your ideal client or customer. The persona includes demographics information and professional information, such as job titles and organization types.
It also includes information such as the places that persona seeks information, what are there regular professional and personal challenges, and what are their goals.
We develop buyer personas using information and feedback that you give us. Sometimes we survey your current and/or potential clients.
Additionally, when the situation warrants, we use data-enrichment techniques to gain insight into your current clients from a third-party data source.
When the buyer persona development process is complete, we know enough about your ideal client or customer in order to build a marketing strategy.
Buyer's Journey
Once we understand the buyer personas, we investigate the path that a prospect takes to become your client. Some people think of it as a funnel. We call it the buyer's journey.
There are three stages of the buyer's journey. They are:
Awareness: At this stage, the buyer is just vaguely aware that they have a problem or issue.
Consideration: This is the point at which the buyer can articulate their problem or need but they have yet to decide which category of solution to use.
Decision: This is the stage when the buyer has decided on the category of solution and is ready to decide between specific solution providers.

Each stage of the buyer's journey, the prospect has different needs.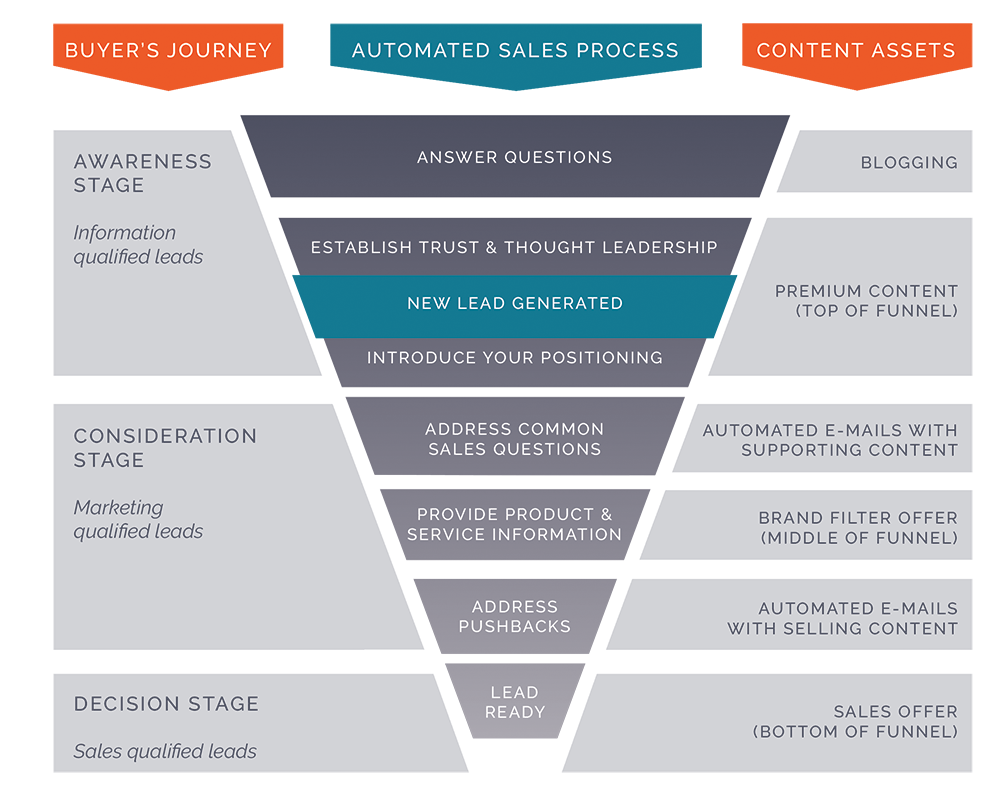 Inbound Marketing Methodology
Once we understand the buyer personas and buyer's journey, we collect other relevant data about your business and the market, in order to build an effective inbound marketing strategy.
Our strategy works in four parts:
Attract
Attract new potential customers with high-quality information that they are searching.
Convert
Convert those potential customers into lead and customers.
Close
Helps close those leads into customers.
Delight
Delight those customers with after-the-close marketing.
How do you attract the right prospects?
The first step in turning strangers into leads is to attract them with information that is valuable and relevant to them. This usually translates to website traffic. We can facilitate several channels to attracting website traffic. The most powerful, efficient, and long-lasting is search engine optimization.
SEO
Being found from an organic search is the most effective and credible channel for valuable website traffic. Google and other search engines are good at understanding what the user is looking for and matching that with the right content on the internet.
We build content that matches what your clients and customers are looking for.
Our process for content marketing works like this:
We closely examine what content is already ranking well for your industry, taking note of even the smallest details, in order to best understand what searchers want.
With that understanding, we build content and a user experience that is superior to what is currently available.
Once the new content has been live for a short period, we optimize based on detailed search data.
Then we optimize again. And, again.
PPC / Search Engine Marketing
It can take months for SEO to positively impact your business, especially if your business or your website is new. This is when paid traffic sources, such as PPC search engine marketing, become valuable.
We build and execute ROI-positive PPC campaigns on platforms such as Google Ads (formerly known as AdWords), Bing Ads, and Yahoo! Gemini.
Digital Advertising
Sometimes digital advertising can play an important part in a successful inbound marketing campaign.
Website and CRM retargeting are great ways to reach potential customers, on websites other than yours, when they are in the buyer's journey. Finely-targeted digital advertising can play a part in demand generation for businesses that have a novel product or business model.
Ad formats can include static display, dynamic display, video, and various native formats.
We can implement digital advertising into your successful inbound marketing strategy.
Social Media Management for Traffic
More than three billion people use social media worldwide.
That is more than 40% of the world's population.
Additionally, the average user spends more than two hours per day on social media.
Most effective inbound marketing strategies include social media in some way.
How do you convert & close them?
Once your prospective customer finds your website, how do we get them closer to winning them as a new customer? We convert them.
While inbound marketing can never fully replace a good salesperson working one-on-one with a potential client, a great inbound marketing campaign can move the prospect deep into the buyer's journey.
Conversion Optimized Website
Your company's website should be conversion optimized. It should be as easy as possible for a user on your site to take the next step toward becoming your customer.
Simply putting your company's contact information at the top of the page isn't enough anymore.
Our website design philosophy is different than most advertising agencies and digital marketing agencies. When we build you a new website or optimize your website, we make every decision based on one criterion: will it bring you new customers.
All other considerations, including subjective aesthetics, take a back seat to the objective factors that we can measure such as number of visitors, number of visitors that become leads, and how each visitor spends on the website.
When we build your company website, the first iteration of the site usually goes live within six to eight weeks. We get the site up quickly because we want to record and measure how your prospects are behaving on the site. Using that feedback, we make changes that we think will improve your website's performance. Then, we measure again.
The entire web design, deployment, and optimization process usually takes one year.
Interactive Inbound Offer
Five years ago, the primary tool for converting visitors to lead on a website, was a static document such as an ebook, case study, or white paper.
While those can still be effective, there is a much better tool.
An interactive inbound offer is a tool on your company's website that delivers personalized information to the user based on data that give us.
Successful interactive inbound tools include:
Pricing calculators
Qualification assessments
Budgeting tools
These kinds of interactive tools provide the user with exactly the information that they need in exchange for permission to contact them. Additionally, the data that the user inputs into the tool can help you qualify and prioritize incoming leads.
Lead Nurturing & Sales Tools
Lead nurturing via email and CRM-retargeted media provides value to the prospect, based on their buyer persona and buyer's journey stage, while they aren't on your website.
Also, inbound marketing on the HubSpot platform provides your salespeople with tools that can increase their closing rates.
For example, when an identified lead takes an action that indicates an interest in your product, such as opening a marketing email or revisiting your company website, the assigned salesperson can receive immediate notification via email and/or text message.
This is especially helpful if your sales department has adopted an inbound sales methodology and practices.
Once the deal is closed and your customer is onboarding, inbound marketing helps you go above-and-beyond in delighting your new customer.
Marketing automation and email marketing provide the customer with relevant information based on their needs at the moment.
Delighting your current customers will pay dividends in upsells and renewals.
"Jake and Ashley live by the motto of results-driven-marketing. If you are looking for a marketing agency that will help you reach your revenue goals, look no further. Bridges Strategies has helped our business grow through proven forward thinking marketing methodologies and has earned our business for years to come."
Max Bevan | NextThought Studios