A Website Accessibility Checker That Focuses on Improvement
If you're ready to start walking the walk with website accessibility, the next step is to make your website meets accessibility standards.
We provide a free website accessibility report that tells you where your website stands and what you can do to improve its accessibility.
Fill out the form to get started.
What can I expect from a BridgeRev Website Accessibility Check Report?
With the BridgeRev Website Accessibility Check you get a detailed report of how your website both succeeds and fails on accessibility requirements. The report will look at adjustments for screen reader users, keyboard accessible adjustments, UI design, and readability adjustments while picking out accessibility errors. You can expect to learn what's working, what's not, and what you can do to improve.
A detailed assessment and downloadable report.
The BridgeRev Website Accessibility Check Report is an accessibility evaluation that will pull code from your website, highlighting why it is or isn't accessible.
A list of action items to improve web page accessibility immediately.
You'll also get a list of action items to help you improve and make your website as accessible as possible.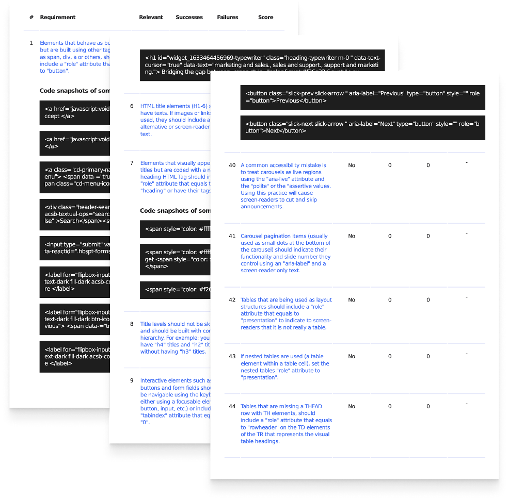 The entire team at BridgeRev supports our work and is committed to our success. Our company has seen growth and improvement in all key metrics that we track with BridgeRev.
Mike Slack | AVIO Consulting
FREQUENTLY ASKED QUESTIONS
Your Website Accessibility Check Questions, Answered
Once you sign up for a report, you'll get an email confirming your request. The report will be ready in just a few business days.
Because of the time involved in providing detailed, accurate website accessibility reports, we can only provide four per month. Act now to be sure you can get one.
Is this really free?
Yes. We offer the Website Accessibility Check for free to help you make your website more accessible.
What happens if my site is found semi-accessible or inaccessible?
In either case, your report will include a list of action items to complete in order to resolve any accessibility issues. We advise you implementing these changes immediately as violations of accessibility laws outlined in the Web Content Accessibility Guidelines (WCAG) 2.1 could result in legal action being taken against you.
How can an accessible site get me more leads?
When you improve accessibility, you expand your reach to include larger numbers of contacts, including potential leads. More than that, it diversifies your target market by including people with disabilities and makes your website friendlier for all users and easier to discover for search engines.
How can an accessible site improve my processes?
By improving end user experience and boosting your SEO, making your website accessible improves your processes. It also guarantees your website elements are organized, labeled, and properly placed.
Why is an accessible site the right thing to do?
Making your website accessible is the right thing to do because it lets everyone who wants to use your website do so without obstacles. An individual with disabilities, who is visually impared, hard of hearing, or needs additional support while navigating your content, should be able to use your site just as well as anyone else. By making your website accessible, you make that possible, and you contribute to a more accessible web.
Don't leave accessibility compliance to the last minute.
Don't wait to make your website accessible. Get your report now.