A Paid Media Services Template That Won't Let You Down
If you've read our blog post on getting started with paid media buying, you've taken a big step toward diving into the world of paid media. The knowledge you've gained from our post will help you better understand how this process works, but there's still nothing like a practical tool to guide your hand.
Our Paid Media Audience Worksheet is a hands-on template designed to give you these benefits.
Practical, step-by-step instructions to begin your first media buy
Guidance in incorporating your buy into your marketing budget
A convenient, intuitive space to keep track of your paid social, paid search, and other paid media campaigns
When you download our Paid Media Audience Worksheet you'll receive an email with an XLS formatted download. You can always import this into Google Docs if you need additional formats.
Your Paid Media Buying Field Kit
Digital advertising is complicated. Publishers and social media platforms change constantly. You never quite know how audiences will react. While it's not a crystal ball, our paid media template is a handy field kit that can guide you on your first journey into this field.
You'll be able to define your business goals, make your media plan, and refine your small business marketing budget with a no frills tool designed to help you succeed.
Here's what you'll get in your paid media budget template.
A step-by-step instruction guide on performing your media buy.
You'll get a breakdown by platform, how to focus on your ideal audience, suggestions on where to find them, and more.
An interactive budget planner and calculator.
This sheet is programmed to calculate your inputs into USD, so you know exactly how much you're spending on the perfect campaign.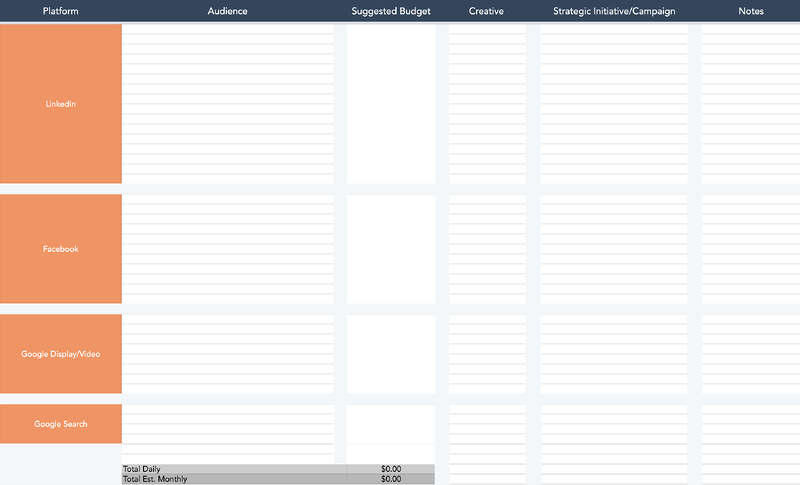 "NextThought has worked with BridgeRev for years. Their knowledge and expertise in digital marketing is second to none. They have created a marketing ecosystem that has helped our growth trajectory in amazing ways."
Jim Goodin | NextThought Studios
FREQUENTLY ASKED QUESTIONS
Your Paid Media Template Questions Answered
Want to know more about your template? We'll cover some more of the basics.
DOES IT COST ANYTHING TO DOWNLOAD MY PAID MEDIA TEMPLATE?
WHAT FILE FORMATS DO YOU PROVIDE FOR THIS PAID MEDIA TEMPLATE?
WHY DO I NEED TO PROVIDE MY INFORMATION TO ACCESS MY DOWNLOAD?
Get prepared before your first media buy.
This is a big deal. Let's make sure you're as ready as you can be for your first paid media venture.