Oklahoma City, OK: Meg McElhaney, Senior Vice President of Operations BridgeRev, was named one of The Journal Record's Achievers Under 40 this month for her inspired leadership in the workplace and her community.
"Words cannot express how grateful I am to be honored in this way," McElhaney said. "I am humbled by the recognition and am honored to stand among such talented individuals in this state."
McElhaney was one of just 45 honorees from across the state of Oklahoma selected for the talented 2021 class of Achievers.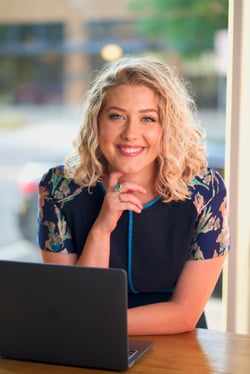 To be considered for this award, Oklahomans under 40 have to be nominated by a peer or supervisor. After this endorsement, the nominated individual has to apply to put their name in the running. The application includes resume submission, letters of recommendation, and essays.
"After all we've been through, somehow these young professionals continue to set the pace for excellence in Oklahoma," Joe Dowd, interim editor of The Journal Record said. "Their professional accomplishments and their inspiring service to our community deserve to be celebrated, and we are pleased to be able to do that with an in-person event this year."
McElhaney's well-deserved recognition comes on the heels of other notable accomplishments from the team at BridgeRev. Just this summer, BridgeRev was named to the HubSpot North American Advisory Council.
"Meg represents what I want people to think of when they hear of our company," Ashley Quintana, CEO of BridgeRev, said. "In just three years, Meg has truly transformed our agency. She is a strong leader and someone who we are so incredibly proud of."

McElhaney will receive her Achiever Under 40 Award on August 12, 2021 in Oklahoma City. Tickets are available for purchase until August 6.
About BridgeRev:
BridgeRev is a results-focused, data-driven, B2B revenue growth agency with a high focus on return on investment. The firm is based in Oklahoma City, and its presence is growing fast throughout the United States and Latin America.
BridgeRev
(405) 813-3330
alex@bridgerev.com
BRIDGEREV SVP MEG MCELHANEY RECEIVES UNDER 40 AWARD
###
Alexandra Bohannon, MPA
Alexandra Bohannon is the Director of Content & Creative at BridgeRev. She has a Master's degree in Public Administration (Public Policy) and a Bachelor's degree in English Literature — the perfect blend of data science and wordsmithing. Her passions include writing, researching, and helping people get the results they want.